Muscle Bodies, Episode 5
The hospital in the teaser is the old Victoria Hospital in London, Ontario that was recently demolished: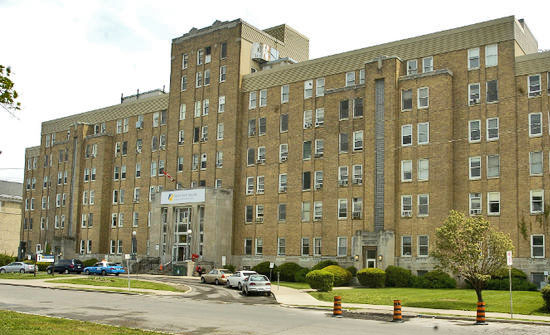 I loved this building and used to pass it regularly on the way to high school. Unfortunately, Londoners have a long-running habit of demolishing their best building and either replacing them with cheap schlock or, more commonly, parking lots. The excuse for tearing this one down was some sort of whimsical development with riverside cafes but if anything ever gets built, it's likely be a couple of drab apartment towers.
The rear view of the hospital is featured in a Greg Curnoe painting in the collection at Canada's National Gallery:
The alternate route shown in the first scene is blocked. Stacey can see this on her phone map and that's why they don't turn right.
Masonville is a newer suburban neighbourhood in London, Ontario. At its centre is the 1980s Masonville Mall that, at one time, featured an indoor miniput golf course.
The fields have just been plowed because it's early May.
Southern Ontario is very flat. To get a landscape to suit Uncle John's house location, it's set near the hamlet of Napier, Ontario.
The route map for this episode: