About
happycreature[at]gmail[dot[com]


Thursday, December 30, 2004
Canadian History Moment
As the year draws to a close, it's important to look back and reflect, because those who forget their history are doomed to repeat it! As a public service, here's a dramatization of a landmark event in the founding of our great nation:

Mutant Bear Attack in Upper Canada, 1852

The Players
Blamb ... Col. Thomas Talbot
Brother Lou ... William Lyon MacKenzie
and Dickson Coatsworth as Abraham Lincoln
photos by Merv

In the cold, dark days of the waning year, Col. Thomas Talbot summoned an old foe to his settlement. William Lyon MacKenzie had returned to Canada from exile only three years prior ...


WLM: What do you want from me, ya' sorry Tory mick?

TALBOT: Listen, sloof, you're the last person I wanted to call on.

WLM: Out with it, then! Every minute I spend with you is time away from readin' me Gil Blas.

TALBOT: Back on in November, something lit up the sky one night. T'was bright as the day! E'er since, somethin's been lurking in the woods and killin' the men building the road.

WLM: You an' yer bloody, curs'ed road!

TALBOT: I assembled a posse to find the beast, an' they were all slaughtered.

WLM: Fine, fine, fine. I'm sure I can make short work o' the beastie.

TALBOT: It's seeking refuge within the catacombs beneath this land.

WLM: Take me hither!

Talbot and MacKenzie rode to the bluffs on the shore of Lake Erie and found the entrance to catacombs.

WLM: Tis dark as pitch! Light the lamp.

TALBOT: I hear a noise.

WLM: The beast!

TALBOT: It's getting closer!

WLM: The lamp! The lamp!

TALBOT: AHHH! It's here!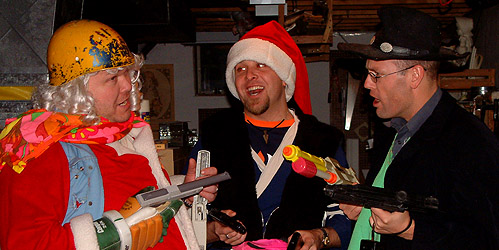 LINCOLN: I say, halt, y'all!

WLM: Who are you?

LINCOLN: Name's Lincoln. I hail from the good ol' US of A.

TALBOT: What are ye' doin' down in these caves?

LINCOLN: I'm an elected representative to the United States government, but I'm also a secret operative for an elite intelligence and security force called A-51. Our special tracking sensors detected an object from outer space. It crashed in this area, y'all. Upon investigation, we found that it was a meteor and the radiation it emitted caused some of the local flora and fauna to mutate.

WLM: What's this you're sayin'?

TALBOT: What's been killing my men?

LINCOLN: Well, I ain't a hundred and fifty per cent sure, y'all. But I reckon it's a mutated bear. And I'm here to capture it.

WLM: Capture it? We've got to kill it!

LINCOLN: Don't you understand, this animal offers many opportunities for scientific discovery!

TALBOT: Fie! I know your kind. You want to use it to create some sort of bio-weapon!

LINCOLN: Negative there, friend. That would be acting against God's Law.

WLM: HUSH! Something comes this way.

TALBOT: Guns! Guns! Be ready.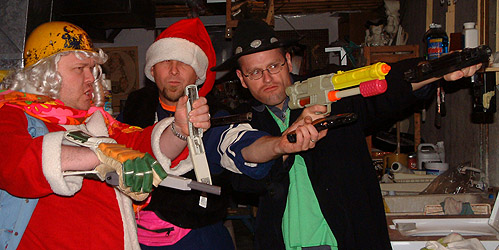 TALBOT: Aim steady.

WLM: Shhhh. It's close.

LINCOLN: WAHHHH!!!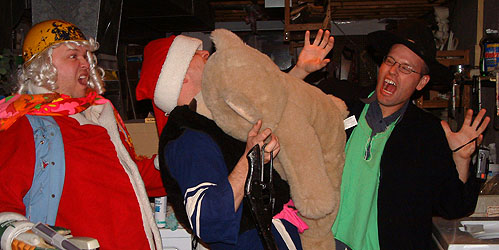 WLM: It's got Lincoln!

TALBOT: Shoot it!

LINCOLN: NO!!! I can take it, y'all! Arrrggghhh!!!!!

TABLOT: It's tearing him apart!

It was a frenzied battle between Lincoln and the bear, but Lincoln stepped on the edge of a crevice, lost his footing and both plunged into the darkness.

TALBOT: Surely, no man nor beast could survive such a drop.

WLM: They are truly killed.

MacKenzie and Talbot searched the catacombs for the following week, but no trace of Lincoln or the bear was ever found.

THE END.

Following the incident, Col. Thomas Talbot feared for his safety and only dealt with the public from behind an iron-barred window.

William Lyon MacKenzie's grandson become Prime Minister of Canada.

Abraham Lincoln became president of the United States. During the US Civil War, the Union army defeated the Confederates using a covert army of mutant fighting bears.

This has been your Canadian History Moment!

1:04 AM , # , |