About
happycreature[at]gmail[dot[com]


Tuesday, December 28, 2004
The Life Sub-Arctic
with Zack & Lex

Merv thought we were showing off, but it was just a little walk through the fields so the dogs and I could spend some time together ... and talk.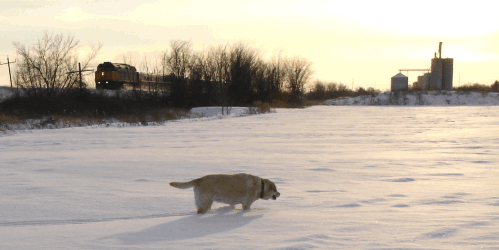 Lex wades through the snow as the train passes on its way to Toronto.

ZACK: So, as we were heading out the door I said, "We are just heading outside for a poop and may be some time."

BLAMB: Very funny, Captain Oates.

ZACK: Well, I'm not like you. I prefer my scatalogical humour a shade more subtle. With historical references.

BLAMB: Lex, how do you like your poop jokes?

LEX: You just said 'poop'! That's dirty! Yuck, yuck, yuck!

ZACK: What movie did you see yesterday?

BLAMB: The Life Aquatic with Steve Zissou.

ZACK: Pffftttt! I hope you liked it, I don't want to have to endure another year of you ranting the way you did about The Royal Tannenbaums.

BLAMB: No, it was great. Excellent flick, very funny.

ZACK: Phew!

BLAMB: And I didn't agree with the reviewers who said that the set design and quirkiness and dry humour kept you from connecting with the characters. That was my main complaint about Tannenbaums, but I felt Bill Murray's pain all through this one.

ZACK: So you had a good time?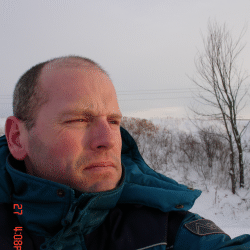 BLAMB: Yeah, except Dickson's car broke down in the middle of the country on the way home and we were stranded. It was freakin' cold.

LEX: Hey! Hey! HEY!!!

BLAMB: What?

LEX: I just POOPED!

BLAMB: So?

LEX: Well, you were saying that poop is funny! Yuck!

BLAMB: Poop jokes are funny. Poop itself is just disgusting.

LEX: Uh oh, it's buried in the snow. We have to find it!

BLAMB: No we don't. Come on.

ZACK: Are you enjoying your break?

BLAMB: Yeah. The satellite tv is fun. Today I watched a former junkie get a make-over on TLC. That would make a great series: Junkie Makeovers. They could give drug addicts and street people makeovers. I would consider getting cable just to watch it.

LEX: You know who needs a makeover? David Spade!

ZACK: Have you seen that commercial he's in?

BLAMB: The problem is his goatee. Both David Spade and the goatee reached their zenith in the mid-nineties. By wearing the goatee in the commercial, it draws your attention to the fact that Spade's career has tanked and that he's longing for better days. It's sad. David Spade has become the very type of person he used to mock in his one-note Saturday Night Live gag.

ZACK: If I ever met him in real life, I'd slap him and shout at him, "Do you think Farley got off easy? Is that what you're thinking? Man, you've got so much ... just look around you and freakin' appreciate it." Then I'd slap him again for effect.

BLAMB: You would not, you'd just try to lick his face.

LEX: Lick! Yuck, yuck! You said 'lick'. That's dirty!

BLAMB: It sure is! Ok, let's go home and watch TRON!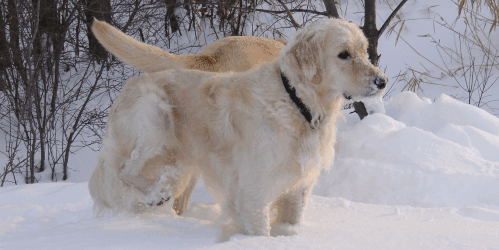 And the holidays continue ...

1:05 AM , # , |