About
happycreature[at]gmail[dot[com]


Saturday, December 25, 2004
Santa Night!
As Merv noted, last weekend I gave in and became Santa again. For the past eight years I was able to resist the urge thanks to a special inhaler Kris Kristofferson designed for me.

But Merv wasn't there, so it is only now, on Xmas Eve, that the true story of that evening can be told ...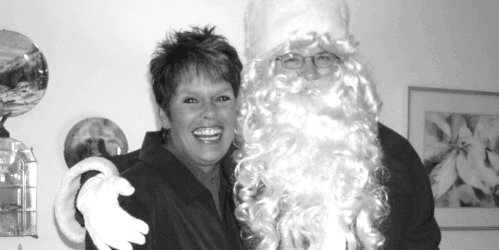 Auntie Sharon embrances the universe's ultimate evil.

A couple of my cousins brought new boyfriends to the family gathering on Sunday. One of them, Charley, seemed suspicious of me. By coincidence, Charley had recently moved into the house next door to me.

BLAMB: Is something wrong, Charley?

CHARLEY: [paralysed with fear] No. Nothing. Nothing, sir.

I figured I'd let it drop. But later in the evening, I overheard him talking to my cousin.

CHARLEY: And I was on MSN typing and I just looked out my window and I saw Brett through his bedroom window and he was dressed as Santa and there was a woman with him and he bit her neck and started sucking her blood!

Well, I couldn't let those sorts of stories get around. I excused myself, telling the relatives that I'd been up late the night before and needed a nap. I went to down to the basement and started to transform ...

My eyes glowed red, my belly became swollen and expanded, my cheeks grew chubby and white hair sprouted all over my body, my breath began to smell like candy canes. I writhed in pain as the physical transformation tore through my body.

I went back upstairs as Santa.

SANTA BLAMB: Now Charley, I don't like it when people talk about me behind my back.

I lunged at Charley, reaching for his neck. But cousin Gillian saw what was happening and sprung into action, attacking me.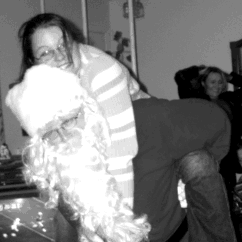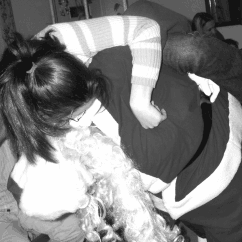 GILLIAN: This evil must end!

SANTA BLAMB: Under attack! I'm being taken!

I fell on an end table and it smashed. Gillian grabbed one of the severed table legs and plunged it through my chest. Blood gushed, I screamed, I gasped ... and was quiet. A crimson stain spread across the floor.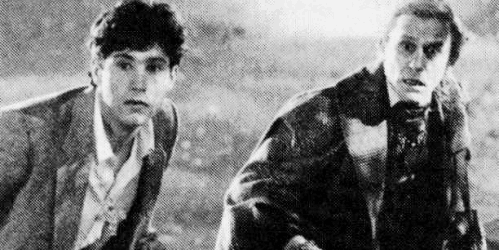 Charley and Grandpa, horrified by the attack.

CHARLEY: I knew it! He was a Santa!

GILLIAN: He won't be making any more lists of who's naughty & nice.

Suddenly, my chest heaved and I vomited blood.

SANTA BLAMB: HAW HAW HAW HAW HAW!!!!

CHARLEY: He's alive!

SANTA BLAMB: HA! Fools! You can't destroy me!

GILLIAN: What?

CHARLEY: Of course! The only way to kill a Santa is to destroy the King Santa!

SANTA BLAMB: Right! Destroy All Santas, Vol. 4, Issue #6. [via Rusty Robot]

GILLIAN: I didn't know that! I was never into Xmas comics ...

Meanwhile, in Texas ...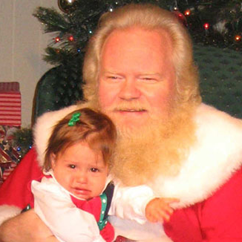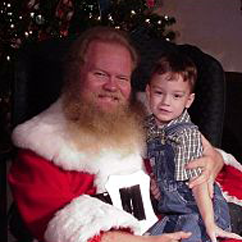 The King Santa was terrifying Sugarmama's niece, prompting one of her readers to link to a picture, taken several years earlier, of the same King Santa with her son. Where will he turn up next?

As for me, I'm back on the serum.

2:15 AM , # , |