About
happycreature[at]gmail[dot[com]


Friday, December 24, 2004
Still the Blamblog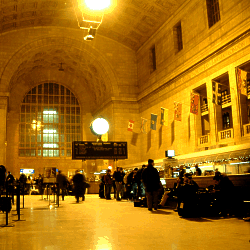 Every Xmas, I take the train home from the city. For the past few years, Caroline has joined me.

[left] start: Union Station, Toronto, pop. 2.5 million

Trains were delayed a little this evening, but the lounge was comfortable and we kicked back. Soon we boarded and were off ...

BLAMB: I saw Kate Bosworth on the cover of a magazine the other day. It's the second time I've been surprised to see that she wasn't eaten by a shark.

CARO: Shark? [points] Here comes that guy, get him to top up the wine.

OLD WAITER GUY: More wine?

BLAMB: Fill 'er up!

CARO: Do you start blogging again, tonight?

BLAMB: Yeah ... I think I'm confusing Kate Bosworth with that surfer ...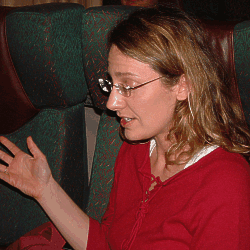 CARO: So what happens on your blog? Things were busy before your break.

BLAMB: It was a good season. Much better than the previous season when I was engaged to be married to Alice and Aukko the Octopus tried to split us up. Last season wound up having all of the genre elements of a screwball comedy, including three acts, plot points and a wacky, happier ending.

CARO: Whatever happened to Alice?

BLAMB: I dunno. I'm sure she's gettin' by ... Kate Bosworth was in that surfer girl movie, right?

CARO: I don't know who Kate Bosworth is. So how does tonight's blog season begin?

BLAMB: We open with the main character riding the train home, alone. He's down and disappointed. His fall romance ended, some other things have changed, the party season is over and a cold winter is setting in.

CARO: Alone?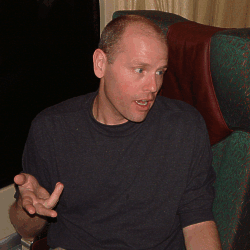 BLAMB: Yeah. The opening scene is an homage to the 1983 Leave It To Beaver reunion movie, Still the Beaver. That show opened with the Beaver riding the bus home to Mayberry ...

CARO: Mayberry? That's Andy Griffith.

BLAMB: Huh?

CARO: Mayberry was the Andy Griffith show. You have the wrong town.

BLAMB: Ok, well, the show opened with the Beaver and he's grown up and riding the bus home. His wife is divorcing him, he's lost his job and the Supertramp song, Take the Long Way Home, plays over the opening montage. So the blog reopens with the same scene except it's my character riding the train home.

CARO: Yeah, but you're not alone. I'm sitting right here having dinner!

BLAMB: When I write it on my blog, he'll be riding alone in coach reading a copy of WIRED. And sitting beside a greasy teenager with halitosis. The teenager might fart, I haven't decided yet.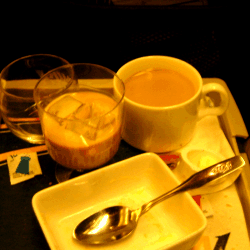 OLD WAITER GUY: Booze?

BLAMB: Can you top up my coffee with the Baily's? Thanks.

CARO: I'm having it with ice. Hey, Old Waiter Guy, which do you think is better? Coffee or ice?

OLD WAITER GUY: I don't know! [starts to cry]

CARO: So what's new this season?

BLAMB: I don't know, so I went to an astronomer the other day and got a reading to find out. The astronomer said that my chart has been a rollercoaster of conflict and tension for the past month and a half and will be until the end of the year. He said the best policy for Aquarius is to sit back, relax and ride it out. Which is funny, 'cause my doctor said the same thing.

CARO: Don't you mean astrologer?

BLAMB: Same difference. Apparently, Uranus, planet of instability and Mars, planet of conflict, are hanging out and shaking things up. I'm supposed to stay away from the ocean, because all these factors combine to make me particularly susceptible to shark attacks right now.

CARO: Like Kate Bosworth.

BLAMB: But she wasn't attacked by a shark! I just imagined it! I think it was some surfer girl and I've confused them.

OLD WAITER GUY: Excuse me, did you just mention sharks? Cause I just heard on the radio that former child star, Jerry Mathers, was just killed in a shark attack!

BLAMB: NOOOOOO!!!!!! It should have been KATE BOSWORTH!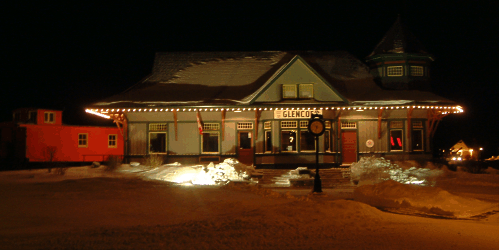 [above] end: Glencoe, Ontario, pop. 2,200

1:00 AM , # , |