About
happycreature[at]gmail[dot[com]


Friday, January 07, 2005
And Now She's Back from Outer Space
There was a knock on the door. I opened it.

BLAMB: ALICE!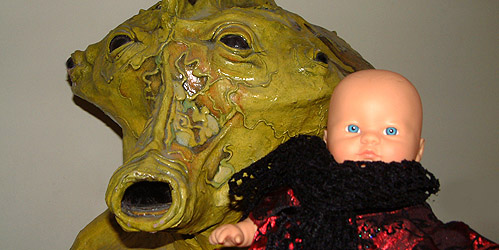 ALICE: Hello, Brett. This is Quon'dar. He is my lover.

Quon'dar shoved past me and walked into the apartment.

BLAMB: ... Nice to meet you, too. [sigh]

ALICE: It's good to see you, guy.

Quon'dar sat on the couch, produced a cigarette and lit it.

BLAMB: Hey! You can't smoke in here!

QUON'DAR: What?

BLAMB: You can't smoke in here. There's no smoking.

QUON'DAR: Are you one of those anti-smoking communist fascists?

BLAMB: If you want to smoke, go outside.

QUON'DAR: I have rights, you know. Alice, I don't know if we can stay here if we're going to have all of these rules and regulations thrust upon us.

BLAMB: Stay here?

ALICE: Um, guy, we need a place to crash. I thought we could stay in your spare room.

BLAMB: I don't have a spare room!

ALICE: The tv room?

BLAMB: That's my tv room!

ALICE: We won't stay long, just a few weeks. It'll be good. You'll have an opportunity to get to know Quon'dar. You're really going to like him. He's an artist. He does amazing work; he's a genius.

Quon'dar was trying to lure the cat by danging some sort of tentacle out of an orifice. He licked his lips.

BLAMB: Don't you freakin' eat my cat.

QUON'DAR: That's a PET?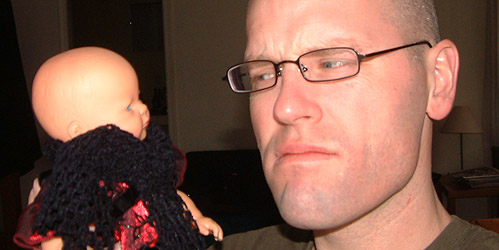 ALICE: So, can we stay? It would really help us out. We've only been back on earth a few days.

BLAMB: Jesus Chri...

WHACK! Alice slapped my face.

BLAMB: OW! What was that for?

ALICE: Don't take our Lord's name in vain!

BLAMB: What? You're not religious!

QUON'DAR: She had an epiphany while we were in deep space and became born again. We've accepted Jesus Christ into our hearts as our own Personal Saviour.

Quon'dar had lit his cigarette and was smoking it.

BLAMB: What? You converted? Quon'dar, you're not even from earth!

QUON'DAR: Listen, a planet dominated by hairless apes kind of freaks me out, but the truth of His Message speaks to me as an individual.

BLAMB: That's ridiculous!

WHACK! Alice hit me again.

BLAMB: OW!

ALICE: Don't judge!

BLAMB: I'm not judging. I'm just ... observing. Critically.

ALICE: Well, cut it out.

BLAMB: Put out that cigarette, Quon'dar!

Quon'dar threw the cigarette on the floor and stomped on it.

QUON'DAR: ALICE! He's like a bloody drill sergeant!

ALICE: What about the room?

BLAMB: Okay, okay. As long as you keep snout-face here from smoking up the joint, you can stay. But only for a few weeks.

ALICE: Thanks, guy!

Quon'dar wandered to the kitchen and ate all of my bananas, peels and all.

QUON'DAR: You got any more of those?

BLAMB: [gritting his teeth] Quooooon'daaaaar!

1:30 AM , # , |