About
happycreature[at]gmail[dot[com]


Sunday, January 30, 2005
Dates from Hell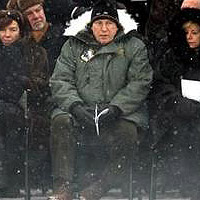 I bet these people wish they'd had John Rhys-Davies around to warn them about the "bad dates". Amazing Amy posted her top 5 dates from hell, inspired by Rude Cactus' story of a girl who got plastered to deal with her nerves. He felt like writing because of Dirty Flower Girl's stories of dating woe. The whole deal appears to have started at Sunburns.

I don't think I've ever had a true "date from hell". Nothing as bad as those described above ... or even as bad as Maria's list. But I've been the date from hell. In fact, I've been a worse date than any of the stories you'll read linked above. Yet, as bad as I was (and the situation was not 100% my fault), my date still wanted to go out again. One persons' date from hell could be another's idea of potential.

Meanwhile ...

I'm Canadian .... yet I've never gone curling. That all changed tonight at the Avonlea Curling Club's Funspiel. And wouldn't you know it? Yet again I forgot to bring along the CrapCam 5000 ... and activities like this were the reason I bought the bloody thing! So we played, we had fun, we lost bigtime and we didn't care ... 'cause we were curling, dammit!

1:42 AM , # , |