About
happycreature[at]gmail[dot[com]


Sunday, January 16, 2005
Flipper was Miffed
Just to recap: last summer Alice was kidnapped by aliens and spent six months in deep space. She recently returned with an alien lover named Quon'dar and they've been living in my tv room. I'm forcing them to share the room with Mr. Loaf, a 70s rock icon.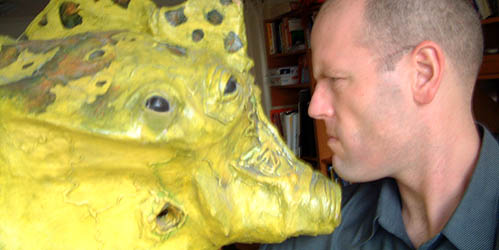 Needless to say, Quon'dar wasn't happy when I told him that Mr. Loaf had moved in.

QUON'DAR: You should have told us you'd offered the room to someone else.

BLAMB: Would you have found another place to stay?

QUON'DAR: That's not the point!

BLAMB Then what's the problem?

QUON'DAR: You're the problem! You're inconsiderate, you're obtuse, you're annoying, you're juvenile ..

BLAMB: Who's juvenile?

QUON'DAR: You have no sense of humour, no affection for manners or etiquette and you let the dog sleep on our bed during the day! It's covered in hair!

BLAMB: That was his bed before you annexed it. Do you think I like you? You're arrogant, pompous and completely full of crap. And you may have Alice fooled, but I see right through it ... I can spot a poser from two hundred metres.

QUON'DAR: We'll see who the poser is.

BLAMB: Yeah, we will!

QUON'DAR: It's you! You're the poser!

BLAMB: No, you are!

Mr. Loaf walked into the fray.

MR. LOAF: Lot of shouting going on out here ... this isn't about me, is it?

QUON'DAR: We haven't been introduced yet. Our host lacks manners. I am Quon'dar.

MR. LOAF: My name if Loaf, Meat Loaf.

QUON'DAR: Charmed. And what is it that you do to occupy your time?

MR. LOAF: Stuff. Just dabble.

BLAMB: He sings and dances and does some acting.

QUON'DAR: He's not going to practice singing, is he?

BLAMB: I said 'no singing'.

MR. LOAF: But if you don't mind, I could give you guys a bit of a preview of my new ...

BLAMB: NO SINGING!

QUON'DAR: Bah.

The computer dinged. There was a new email.

BLAMB: Ha! Look at this!

Dear Brent,

We are lawyers from Buffalo, NY. We are going to be working on a trial in your city and require a place to stay for a few months. Your website googled up and we read about the room. Would you mind if we crashed while we're in town? It would really help us out.

Yours truly,
Cellino & Barnes

BLAMB: Would you guys mind sharing?

MR. LOAF: The more the merrier!

QUON'DAR: GRRRRRR!!!!!

3:32 PM , # , |