About
happycreature[at]gmail[dot[com]


Friday, January 07, 2005
Ground Rules
Alice has returned from deep space with her alien lover, Quon'dar, in tow. They are staying at my place.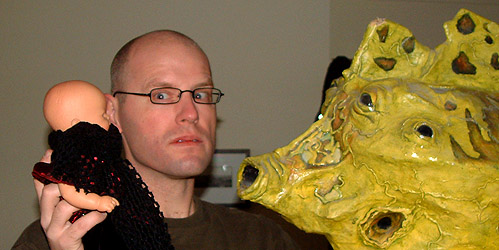 ALICE: I haven't seen you since the summer. What's new in your life?

BLAMB: I have new glasses. And I saw a moose!

QUON'DAR: Primates look funny when they wear corrective lenses.

BLAMB: Shut up, Quon'dar. Okay, if you two are going to stay here, we're going to have to establish some ground rules.

ALICE: That's fair.

BLAMB: Rule #1: NO SEX NOISES. I don't know what kind of freaky alien sex noises Quon'dar makes, but I don't want to hear them. One peep and you're out!

QUON'DAR: Aren't you a little prudish for a chimp?

BLAMB: Shut your suck hole, fly breath!

QUON'DAR: You're just jealous 'cause you're not capable of cutaneous respiration.

ALICE: Come on, let's keep this on track.

BLAMB: Fine. Rule #2: Do no eat all of the bananas! If you want bananas, get your own. I need bananas for my sandwiches.

QUON'DAR: Where the hell are we supposed to get bananas?

BLAMB: At the Duff like everybody else. Or the No Frills on Lansdowne. Rule #3: No hanging around during the day. I work at home, so you two need to find something to do during the day so you're not around distracting me.

ALICE: You do a pretty good job of doing that yourself.

QUON'DAR: By sex noises, do you just mean vocalizations or do you mean any noises, like vibrating dorsal bone sounds?

BLAMB: What?

ALICE: He just wants us to keep it quiet, he doesn't mean ....

QUON'DAR: Are we just going to let this guy dictate our whole lives? I mean, who the hell is he to set terms?

BLAMB: It's my apartment!

QUON'DAR: So that makes you Lord God Emperor? Are you going to keep us from voting, from participating in public life?

BLAMB: You can't vote. You're not from this planet.

QUON'DAR: Well, I'm soooo sorry, Lord God Emperor Blamb. I wouldn't want to disrupt the democratic process on your precious, little planet!

BLAMB: Goddammit ...

WHACK! Alice whacked me.

BLAMB: OW!

ALICE: I warned you!

QUON'DAR: Take that, smart ape!

ALICE: Any other rules?

BLAMB: Rule #4: no hitting!

ALICE: Rule #5: no blasphemy!

QUON'DAR: Rule #6: no presenting, grooming or other irritating primate behaviours.

BLAMB: You're dating a primate, you idiot.

QUON'DAR: Our connection transcends the species boundary.

ALICE: Aw, Quon'dar ...

Alice gave Quon'dar a kiss. They started nuzzling. They kissed again. And again.

BLAMB; Oh, bloody hell, get a room.

11:31 AM , # , |