About
happycreature[at]gmail[dot[com]


Monday, January 31, 2005
In Oz
Dad continues to post from his Australia diaries.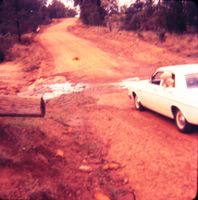 In the latest episodes, he gets a driver's license, a car and we arrived from LA. We also learn:

Apparently everyone is mad at me for going off to Australia, especially Don and Phyllis. (my grandparents)

Apparently a small town in the outback wasn't good enough for their daughter!


9:16 AM , # , |