About
happycreature[at]gmail[dot[com]


Thursday, January 06, 2005
It's a Blog World After All
Nominations are open for the 2005 Bloggies. They close on January 10th, so go nominate! I'm nominating Australian Brett Lamb for best Aussie blog, even though the bastard only posts once a month. Tony Pierce is up against some pretty tough competition at the BOB Awards, so lend him a vote in the big-time blogger category.

In the real world, Adina wrote that she joined a gym the other day and it sounded a lot like my gym:

No tv's. No music. No one wearing gym clothes more expensive than the average winter coat.

So I wasn't surprised when she and Chris walked into the pub tonight while I was out at fitness class beer night. We pitched running class to her and she said she doesn't do classes ... but spinning is a class. Adina, Saturday spinning at 11:30 is greeeaaaatttt! And yes, everybody does go to our gym ...



Okay, let's look at more of the nominees for the Canadian Blog Awards. Remember, you're allowed to vote once per day. I'm nominated for Most Humourous, so help me get all the glory! I promise to use it for goodish pursuits.

THE BEST CANADIAN BLOG
or Old man, take a look at my life I'm a lot like you!

This is it: the battle to be the best of the best, the big cheese, the all-time greatest, the mega-awesome super-dimensional blogtastic all-star, the ...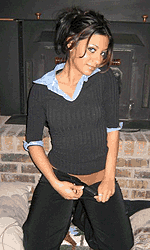 RAVEN RILEY [nsfw]: What the hell are you talking about?

BLAMB: Um, the best Canadian blog?

RAVEN: Did you look at the nominees? Almost all of them are political blogs, even though there are categories for best left-wing and right-wing blogs.

BLAMB: Hey, I just checking the sites, you're right!

RAVEN: Political blogs have become a blight on the internet. They poisoned the list of nominees! The people who write them are all perverts and weirdos.

BLAMB: So many people called 2004 the "Year of the Blog" because of the political blogs, but the genre jumped the shark a long time ago.

RAVEN: On Scrubs, Dr. Cox once said that if you took all of the pron off the internet, there would only be one website left called, "Bring Back the Pron". If you took all of the political blogs off the internet, people would just let out a big sigh of relief! Then they'd masturbate. Or maybe they'd masturbate first and then let out a big sigh of relief.

BLAMB: Political discussions belong on blogs, but blogs that focus soley on partisan, left vs. right, liberal vs. conservative, red vs. blue battles are so damn shallow.

RAVEN: I know, there's more to life than bickering over flimsy ideology. And these political blogs spend so much time hammering away at petty little details, imagined offenses and non-issues, they tend to obfuscate instead of enlighten. I'd rather read a blog that's completely fictional but still manages to seek some sort of truth. Picard said that the duty of every Starfleet officer is to the truth, whether it's scientific truth or historical truth or personal truth! It is the guiding principle on which Starfleet is based! If you can't find it within yourself to stand up and tell the truth about what happened, you don't deserve to wear that uniform!

BLAMB: He said that to Wil Wheaton who is running against Pierce and Zach Braff in those BOB Awards.

RAVEN: Tony? He's my babe, he really is. But even he got carried away with the politics this year.

BLAMB: It was a big election year. I've been carried away with politics at times.

RAVEN: Yeah, but I read him to experience the higher plane ... I hate it when he slums in the mud. But I'm still voting for him on that BOB thing. Who did you vote for on your lame-ass Canadian idiot awards?

BLAMB: Accordian Guy. Joey posts about politics from time to time, but he also posts about fun stuff, personal stuff and he's the one who throws the parties. He understands the need for a good mix and he lives his life in a way that keeps his ratings up. Plus, he's gonna win anyways, so why fight it?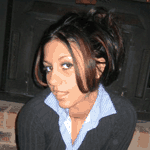 RAVEN: That's cool. Hey, want to hear my impression of Horshack from Welcome Back, Kotter?

BLAMB: Um, ok.

RAVEN: Mista Kotta, Mista Kotta! Ooh! Ooh! Ooh!

BLAMB: Um, er ...

RAVEN: Ok, ok, guess this one! Who am I? Hey there, little buddy! Is that a coconut in your ear or are you just happy to see me?

BLAMB: Skipper from Gilligan's Island.

RAVEN: Yeah! Ok, try this one ...

BLAMB: No, that's ok ...

RAVEN: Come on, one more. I am not a crook! Yabba, yabba, yabba! You won't have ol' Dickie to kick around anymore!

BLAMB: Yabba, yabba?

RAVEN: Who was it?

BLAMB: Nixon.

RAVEN: Yay! Ok, guess one more ...

12:37 AM , # , |