About
happycreature[at]gmail[dot[com]


Friday, January 21, 2005
Poke in a Soap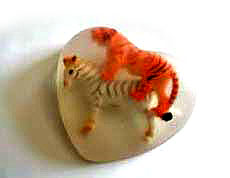 Jennifer Lovegrove is selling little animals having sexual relations in custom-made bars of soap over at Soap Scum. You can choose from a variety of animals ... myself, I want to see Manta Ray and Spider get it on. I bet half of you are thinking of mating the Lion and Tiger for your own personal gain.

Other designs, flavours, scents, etc are available. Go buy already!

......

Also:

One does not simply walk into Mortor! (via indigoblog)

Kat learns that if you give a doctor a pad of paper, they'll take it!

But Adina is a blogger!

Brent is tired. Tired of haircuts? HAIRCUTS! I'm tired of 12 things on his list, not the ones you think.

At the BLC, it's Wussel Pith!

11:44 AM , # , |