About
happycreature[at]gmail[dot[com]


Wednesday, January 26, 2005
Quickstop
I was at the grocery store and saw Jay & Silent Bob with Caitlin from Degrassi on the cover of the tv guide. Talk about worlds colliding. But the 3-episode storyline sounds a little lame: Kevin Smith plays himself and he tries to woo Caitlin. You just know that everyone is going to be watching and wondering how many cocks she's sucked.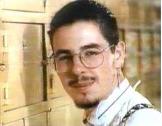 A true homage would have Smith blow his brains out in the boys washroom after Caitlin rejects him and would include a scene where Jason Mewes buys condoms at Shoppers Drug Mart and then tries to have sex with Liz. "Liz" used to come to our fitness class and it always made me giggle because I'd immediately think of her saying, "I hate you, Joey Jeremiah! I thought you were my friend!" There really should be some sort of homage to Claude Tanner, since he was the single greatest character in television history. Claude was the Pierre Trudeau of messed-up high school proto-goth geeks.

Speaking of my fitness class, I told my friend that I re-googled her and informed her of what I found and she's considering (justifiable) legal action (so, obviously, no details for you, dear reader!). But I can tell you this: my friend has learned the value of both googling other people and yourself. She has also learned never to doubt the depth of my wisdom.

But I should take a moment to apologize. When we went out dancing with the pseudo-goths on Monday night I forgot to set the VCR to tape the third episode of Bachelorette and so we missed a tv night. My wisdom only extends so far. I will make it up by injecting the 4th episode review with 1/3 more bile.

Anyhow, if it were up to me, a Degrassi/Jay & Silent Bob crossover story would involve Jay & Silent Bob busting Wheels out of prison and there'd probably be some hijinks at the Dufferin Mall (ok, ok, Gerard Square is more appropriate). At the end of the episode, Jay would lay his hands on Lucy and she'd be able to walk again.

In other news...

The Bloggies site is working, vote while you can (but someone else exceeded her bandwidth 509, dude!). Accordian Guy's annotated Starbucks map is an interesting read (vote for him at the Bloggies, dammit). Storm considers the "new" Sunday Star. When I saw the first edition of the redesign, it left me wondering which high school yearbook committee they recruited for the job (because only a 16-yr-old would have selected that headline font). The cover was nice, but the rest was ... WTF? Nutso! Even worse, because they run the entire paper in full-colour, the pages were still wet. Adina is starting to understand how this whole running thing works ...

Ok, Zack is going nuts, we've gotta "go walkies". BESERKER!

8:19 PM , # , |