About
happycreature[at]gmail[dot[com]


Saturday, January 22, 2005
Saturday Night Freezer
I almost didn't go to the party tonight, it was my second night out in a row (last night I tried getting low-light pics using the minicam at the pub: success!), we're dancing on Monday, I started the fitness instructor course today and was bagged from that and there's another day of it tomorrow, but I figured I could make an appearance because it was on my streetcar line. And then I took a cab. But it was a great party with lots of groovy folk, so the savage trek across Hoth dodging Wampas and AT-ATs was worth it. Party-related linkage:
Images Festival
One Minute Film & Video Festival
Hot Docs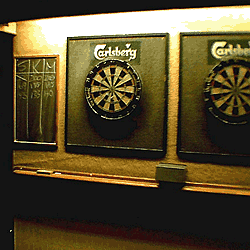 As for the fitness course, it was a great way to spend a blizzardy Saturday. The characters in the class are funny-bordering-on-wacky and they have a Waiting for Guffman groove going on. It's a bit strange being there, if you'd asked me at any point before two years ago if I had an interest in becoming a fitness class instructor, I would have said, "Pfffft .... no." But there I am, eh?

I also submitted my votes for the 2005 Bloggiestonight, just before the deadline but the message bounced on the first try, so who knows if they'll get through. I wound up on one of the "panels" that voted for the short lists of nominees ... which meant that I had to surf a lot of blogs. I'm a little disappointed that I didn't fall in love with any of the nominees (besides the ones I already read) ... and I really wanted to find some good, new stuff. I've found a few excellent blogs through your blog rolls this week and I didn't see many in the nominees that were as good.

But, the number of political blogs in the nominees was minimal; THAT was a relief. And I'm not crazy about the US Magazine-style celebrity blog genre, like political blogs they tend to be repetitive (the Linsay Lohan dribble pic isn't as funny the 23rd time around) ... but at least they're witty and tend to be more negative, sarcastic, realistic and less idealistic than the politicos. And what more do you want?

Bloggie voting starts tomorrow. Past winners include Natalie, Davezilla, Loobylu, Rannie, Textism, boing boing and, of course, WHEATON!

11:45 PM , # , |