About
happycreature[at]gmail[dot[com]


Monday, January 17, 2005
Scratch 1 Stalker, 1 Virgin
Bachelorette ep. 2

Tonight Mr. Loaf, Alice, Quon'dar, Zack and myself gathered to watch the tube.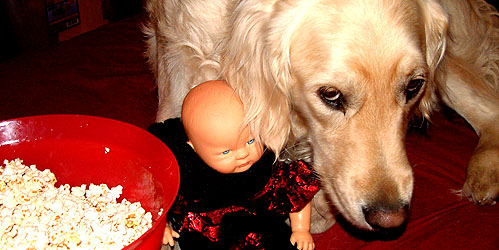 BLAMB: Hey, it's on! Mr. Loaf, get in here!

MR. LOAF: Okay. Is the poetry guy on yet?

BLAMB: Poetry guy?

ALICE: No, that was the first series. What was his name?

BLAMB: Ryan Reynolds .. no! Stuart Sutcliffe!

ALICE: Ryan Sutter, you idiot. I hated that Trista. Everytime she talked in that little baby girl voice, I wanted to clock her in the jaw with a pipe wrench.

QUON'DAR: What's going on? There are all of these men and they live together? I thought this was a show about mating.

ALICE: These guys all go on dates with the same woman, Jenn, and every week she selects the guys she likes best until she finally ends up with one guy at the end.

QUON'DAR: What if she likes more than one guy?

ALICE: She can only have one.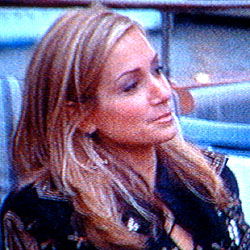 QUON'DAR: She can't invoke bhur 'rhanda kahl?

ALICE: Only in Utah.

QUON'DAR: So we have to watch the whole series just to see the mating at the end?

ALICE: You don't get to see the mating.

QUON'DAR: WHAT? Then what's the point?

BLAMB: Okay, everybody pick your winner and the reason why you think they'll win. Quon'dar?

QUON'DAR: I am picking the French guy because he is playing the best game. With the other men, he is constantly working to psychologically disarm them and undermine their confidence. With Jenn, he makes it appear as though he is disarming himself ... but he is the only one with a strategy and that is why he will win.

ALICE: I think Jenn and Jerry, the art gallery director, have already fallen for one another. In the first episode they fell immediately and both got caught up in it and in this episode they seemed spooked by that and took a step back ... and that's how those things go, two steps forward, one step back. I'm picking him because it was love at first sight.

BLAMB: Mr. Loaf?

MR. LOAF: The welder looks like Tim Curry.

ALICE: So you're picking him?

MR. LOAF: Yeah.

BLAMB: I guess I get stuck rooting for Wendell, then. Bloody hell, Wendell sucks. Okay, who do you want to see dragged right up to the end, only to have their ego smashed like a bunch of ostrich eggs at a charity casino?

ALICE: John Paul, the smarmy fop. Rake his ass over the coals and scrape that slimey grin off his face.

MR. LOAF: Virgin Josh. I would do anything for love, but I won't do that.

QUON'DAR: Brett. But since that's not possible, Wendell can fill in.

BLAMB: Gee, thanks. I'd like to see the welder guy get keel-hauled to the finish before he gets popped. I get the sense that he's covering up a bunch of insecurities and I think seeing his buttons get pushed and his fears exposed would make good television.

ALICE: When he tried to make her feel comfortable, he showed one of the very worst qualities you men have: the need to try to "fix" things. And sometimes we don't want things "fixed", sometimes they can't be "fixed", we just want you to say that you freakin' understand. Morons.

QUON'DAR: That is why I adore you. You do not require fixing, you are perfect.

BLAMB: Suck up.

MR. LOAF: Hey, the Tim Curry Welder Guy just said that he writes poetry!

BLAMB: That's it, then. He's doomed. Why the hell do all the guys keep asking her what went wrong with her past relationships? For one thing, that sort of stuff is kind of personal and for another, the information is useless ... how would it help them? Each couple is different ... and it's kind of a negative way to kick off a conversation.

QUON'DAR: Well, I for one like Stu's passion!

BLAMB: He's an obsessive freak!

QUON'DAR: He feels a burning within and he is not afraid to embrace it!

ALICE: Stu always looks like he's about to cry.

QUON'DAR: It is the passion boiling forth.

BLAMB: Uh oh, the big, burly fireman just wigged out.

ALICE: He knows he's toast. He's just accepting what his instincts are telling him.

MR. LOAF: What are they telling him?

ALICE: Get your ticket signed, buddy. And he did! Now he'll always have a memento of the time he was on tv and almost dated that girl.

"You cannot begin to understand the depth of me ... My life is my legacy!"
- Josh the Virgin

ALICE: The French dude really got under Virgin Josh's skin.

MR. LOAF: Hey, Jason's a virgin, too!

ALICE: I can't believe he came clean with her about that, he's toast. Actually, he seems a little gay.

BLAMB: They should have a season called Bachelorette: Virgin Territory. The twist would be that all of the men are virgins. And they would all have to wear a big, black "V" mark on their foreheads.

ALICE: Imagine trying to cast that. Oh, there's Chris the host. It's time for the rose ceremony. Everybody loves Chris.

BLAMB: 'Cause he's married. He's not a perceived threat to either the men or the women. And there's a hint of Stockholm Syndrome as well.

QUON'DAR: Why is she handing out plant clippings to the men?

ALICE: Red roses symbolize romantic passion.

QUON'DAR: On my world, when we want to present out lovers with a gift symbolizing passion, we give them a gel bladder filled with warm, salt water.

BLAMB: Nothing says "I love you" like a bag of water.

QUON'DAR: Shut up, lemur. It symbolizes the gift of life.

ALICE: You've never given me a gel bladder filled with warm, salt ... Holy cow! Virgin Josh got a rose!

BLAMB: But Stu is going home. I thought that he'd explode after not getting a rose. Or faint. Or both.

MR. LOAF: I'm just happy the fireman got his autographed ticket and that Tim Curry lived to see another episode.

ALICE: So, honey, what did you learn about human love?

QUON'DAR: It amazes me that any of you hook up, ever.

11:49 PM , # , |