About
happycreature[at]gmail[dot[com]


Monday, January 03, 2005
Vote So I Can Win!!!
My Blahg presents the 2004 Canadian Blog Awards and like a bunch of other bloggers, I'm scratching my head over being nominated in the "Most Humourous" category. This isn't supposed to be a humour blog, it's simply my take on things ... but whatever, it's fun being nominated for something. If it's laughs you want, head over to B3TA.

The great thing about blog awards is that they provide cannon fodder. Load 'em up!

THE BEST DESIGN IS NO DESIGN
Crap, if my blog had been nominated in the "Best Design" category, it would have cleaned up against these losers. Look at Dust My Broom and a few of the others -- there's no "design" (but DMB looks fun). Mike Brock was nominated for "Best Design" because they didn't have a "Best Use of a Conservative Persona to Compensate for Unresolved Homosexual Feelings" category. And why do conservative blogs always appropriate phrases from ABBA songs, like "On the Attack"? I need some sort of macho tag like that: I'm going to sizzle your nozzle with my eye lasers!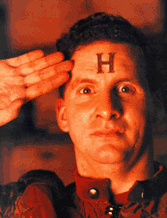 Ummm ...

Speaking of conservative blogs, why do conservative bloggers spend 99% of their time harping on about how "conservative" they are and trying to reinforce their conservative identity with little flag icons and crap like that? Who gives a rat's ass? Whipppdee doo! You're conservative! Here's a badge and a trophy. I guess being recognized for conservative blogging is only fair since so much self-indulgent whining and feigned outrage takes a lot of work. So here's to you, conservative bloggers, keeping the world safe from ... er, fun?

Ok, a couple of better design nominees:

Here's one that looks cool. And another. And this one seems to be dead, Jim.

NO HUMOUR, NO HUMOUR FOR ME
Here's my competition in the "Humour" category. Holy crap, I'm up against Kim! Does that mean I have to start badmouthing her? Ok ... here it goes: Kim smells like poopies. If you read her site, you'll turn into Mike Brock. Ha ha ... kidding ... actually, you'll turn into Kathy Shaidle.

Alrighty, let's check out some of the others: um, this one's in the wrong category 'cause he's ranting about politics, this guy's in the same boat, Paul Wells??? Andrew Firestone is so funny, he made up his own awards. Now this is funny:

The libertarian, then, should be a person who would push the button, if it existed, for the instantaneous abolition of all invasions of liberty. Of course, he knows, too, that such a magic button does not exist, but his fundamental preference colors and shapes his entire strategic perspective

Yeah, this guy's fundamental preference colors and shapes him into being a long-winded blowhard.

I don't know if she's funny, but Sarah is articulate, attractive and single ... but lives in Vancouver, so nuts to that (besides, she only survived two weeks on ye ol' Lavalife). Dating fellow nominees is probably unethical, as well, especially if they believe in the magic button. Knitting is apparently FUNNY! Who knew? And this blog has a campaign team and appears to by the only nominee dedicated to humour, so it's a shoe-in. Congratulations, A Day in the Life! You're Canada's funniest blog!

Trashing nominees is so much fun, I'm going to drag it into another post. Thanks to any and all of you who nominated the Blamblog.

11:01 AM , # , |