About
happycreature[at]gmail[dot[com]


Tuesday, February 15, 2005
The Great Blog Dating Experiment
Anita invited some of us over for dinner this evening. The conversation was brisk.

BLAMB: You have all these dating stories I haven't heard!

ANITA: You never asked.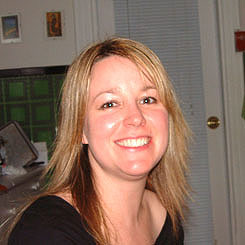 BLAMB: What? I need to ask?

ANITA: Right now I want to expand my dating pool.

BLAMB: Have you tried Lavalife?

ANITA: I'm kind of lukewarm on that idea.

BLAMB: Hey, maybe you could get dates through my blog. Readers who are interested in hearing more about you can email me at happycreature[at]gmail[dot]com.


ANITA: Does it work? Have you tried it before?

BLAMB: I've set up readers with readers and readers with bloggers on occasion, but I've never tried using the blog to pitch dates. It would be a good experiment; a logical extension of past activities.

ANITA: Ok, let's do it!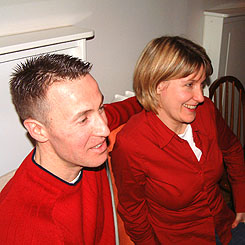 JEN: What about Karim?

RON: Yeah, he's single.

KARIM: Should I?

BLAMB: It's win-win. You might get dates and you'd be helping to expand the blogging frontier.

KARIM: Do you have any gay readers?

BLAMB: Sure, probably ... I don't know who my readers are. I doubt this is even going to work on the first try. It's an experiment.

KARIM: Okay, I'm in.

BLAMB: Great, any guys interested in hearing more about Karim can email me at happycreature[at]gmail[dot]com, too.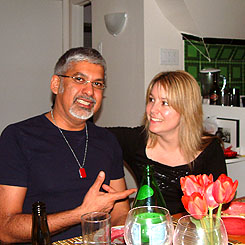 ANITA: You should mention his cooking. He'll get dates on his brunches alone.

KARIM: Well, I can't guaratee brunch.

ANITA: Some dates are unbrunchable.

BLAMB: Ha ha ... if this works and you both get dates, you'll owe me BIG TIME!

As we chowed down on the dessert Karim had prepared, I thought of the fantastic potential of blog dating.
1:08 AM , # , |