About
happycreature[at]gmail[dot[com]


Friday, April 08, 2005
It's Raining Music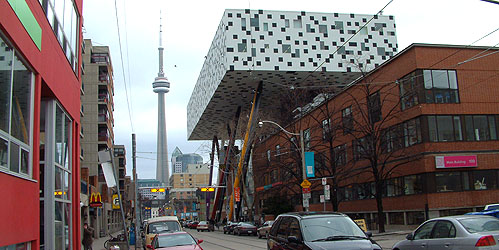 McCaul Street

We skipped our run last week but were back at it yesterday afternoon.

MARIELA: You look terrible!

BLAMB: I look terrible.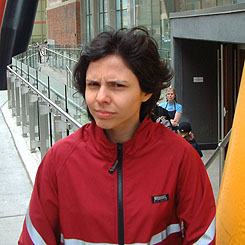 MARIELA: You look haggard.

BLAMB: I feel haggard ...

MARIELA: Hey, the other day I saw that girl you went on that date with.

BLAMB: Which one?

MARIELA: Cellphone Girl.

I had coffee with Cellphone Girl last fall. She earned her nickname by taking three calls during a very short coffee date.

MARIELA: She's not bad looking.

BLAMB: Yeah.

MARIELA: So, are you going to use It's Raining Men for your fitness class music?

BLAMB: What? Did someone recommend it?

MARIELA: That Dave guy.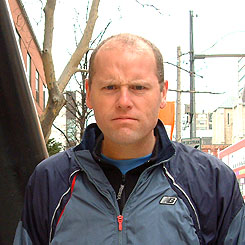 BLAMB: I must have blocked it out when I read his list. I hate that freaking song! It's been used -- the Geri Halliwell version -- in three different classes at the gym. Once is funny, twice is dumb, three times is completely idiotic.

MARIELA: What about Minor Threat? Maybe you'll get some Straight Edgers coming to your classes.

BLAMB: Well, the regulars at the gym drink, do drugs and fuck ... one of the spinning instructors works in porn ... but it takes different strokes and all that ... so they'd probably add some colour.

MARIELA: Do you have to suck up to Warren Kinsella to get him to comment on your blog, the way they suck up to politicians on 22 Minutes?

BLAMB: Crap, yeah. That's the only way to get political insiders to comment. If I start ribbing Kinsella about having run John Tory's campaign to be mayor and stuff like that, nobody else will comment. I want to negotiate a bit where we have Stockwell Day appear and take Alice for a jet ski. He's not going to be comfortable doing that if he's worried about me mentioning dinosaurs. You gotta suck up.

MARIELA: Tory almost became mayor, too. We dodged a bullet.

BLAMB: Remember during the debate when Tory said that his favourite intersection in the city is Bayview and York Mills? You know what's there? A strip plaza with a really big parking lot. What a great intersection! I bet a lot of straight edgers hang out there. ... Hey, remember when 22 Minutes was funny?

MARIELA: I don't think it was ever that funny.

BLAMB: I think people just liked the way Rick Mercer's accent sounded when he said Paul Martin. Mercer will surely shed a tear when the government falls next week. Martin became his unlikely comic foil.

MARIELA: Were there any other songs you liked on the lists?

BLAMB: I can't believe Eva recommended Barenaked Ladies. Bruce Cockburn's right, they're crap. They started out as a novelty, became irritating within six months and have only become worse with age ... it's like the Rheostatics of the evil mirror universe somehow found a way to get into our universe.

MARIELA: But were there any you LIKED?

BLAMB: As if I'm going to tell YOU. You'll slam the first song I mention.

MARIELA: No I won't! I'll suck up 'cause I want you to keep telling me which songs you like.

BLAMB: I don't trust you.

MARIELA: Sure you do.

BLAMB: Ok. I thought that Feist cover of Inside & Out, recommended by Brenda, was fun.

MARIELA: I KNEW IT! YOU'RE A SAPPY-ASSED DISCO-LOVING FREAK!!!!!!
9:52 AM , # , |