About
happycreature[at]gmail[dot[com]


Thursday, April 07, 2005
Last Day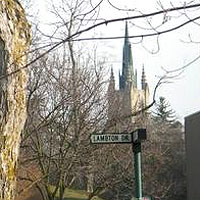 Today is Merv's last day of classes. She posted some pics of her (soon to be discontinued) walk to school. Congrats!

.....

Thanks to everyone who posted song suggestions, you gave me a lot to work with. Please patronize these fine bloggers who contributed:
Adina, Bren, Brent, Christie, Dave, Eva, Ice Queen, Jamie, Kevin, Leanne, Marge, Nadia, Skillzy, Sugarmama, Warren.
10:43 AM , # , |