About
happycreature[at]gmail[dot[com]


Thursday, April 14, 2005
One Week 'til Hot Docs
Hot Docs' opening night is one week from tomorrow.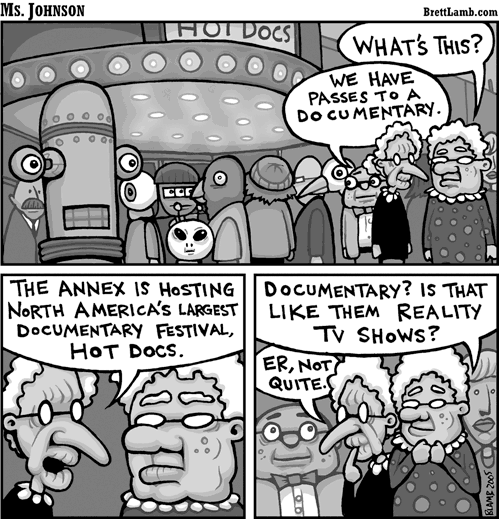 This website is sponsoring the following screenings, so check 'em out:

WORLD PREMIERE
ICE BREAKER
dir. David Best & Jody Shapiro
with
OPERATION HOMECOMING
dir. Luc Cote
Sat. April 23, Isabel Bader Theatre, 4:45pm
I know Dave and he lives in the 'hood, so obviously I was going to sponsor this screening. I haven't seen it yet, but those who have say it's a great, visually stunning doc (the stills were the best set submitted by any film in this year's fest). It screens with the world premiere of Operation Homecoming which examines the difficulties Canadian Peacekeeping soliders face when they return home.

CANADIAN PREMIERE
GRIZZLY MAN
dir. Werner Herzog
Fri. April 29, Bloor Cinema, 7:00pm
Herzog mixes interviews of friends and experts with footage shot by Timothy Treadwell, a guy who loved Grizzly bears so much he tried to live with them until he and his girlfriend were finally eaten by them. An award-winner at Sundance, this one is generating great reviews. Project Grizzly minus the suit.

WORLD PREMIERE
GYMNAST
dir. Edet Belzberg
Wed. April 27, Bloor Cinema, 7:00pm
Belzberg's first film, Children Underground, was nominated for an Academy Award. Gymnast features the stories of three teenage girls competing for a spot on the US Olympic team. Highly recommended by those who have prescreened it.

Screenings will sell-out, so get your tickets asap! The screening schedule will be inserted in Saturday's Toronto Star.
1:33 PM , # , |