About
happycreature[at]gmail[dot[com]


Wednesday, April 20, 2005
Politics is a Dish Best Served a la Mode
Alice came over. She was in a tizzy.

ALICE: Hey idiot, we need to talk.

BLAMB: You're the fourth person to call me an idiot today. Forturnately, Chris emailed me a graphic and some advice:





A genuine Chrysoberyl Cat's-eye Gemstone has been known to absorb all cat-based telekinesis.(see graphic) The only thing is "genuine" Chrysoberyl Cat's-eye Gemstone are as rare as a good Moby album.

ALICE: Huh?

BLAMB: He said I might be able to find some at the Duff. Read this:

Maybe you could send Alice and Quon'dar on a "Save Blamb" mall mission to
retrieve the gemstone. It may be just the thing to get those two back
together.

ALICE: Quon'dar and I are never getting back together. I can't believe how much time I wasted on that. I should have just stuck to my guns the first time we broke up.

BLAMB: The first break-up never takes ... and I don't want you two to get back together. I hate that jerk.

ALICE: He never loved me, y'know.

BLAMB: All love is unrequited.

ALICE: When you say things like that, I don't need a telepathic kitty to convince me that you're an idiot. Ok, have you been reading all that crap on Kinsella's blog?

BLAMB: No.

ALICE: He testified at a Commons committee about Earnscliffe. He's made all sorts of wild accusations and suggested that Martin was in the loop.

BLAMB: So?

But of course, I remembered. Alice worked on contracts with the Earnscliffe Strategy Group at that time. She's been a Martin suppoter for years and was even slated to run for parliament before she was abducted by aliens last summer.

BLAMB: I don't have any sympathy for the lot of you.

ALICE: Just email Kinsella and ask him to lay off me, ok? I have enough problems. And don't write about this on your stupid blog.




BLAMB: Why shouldn't I? I can't count the number of times I've been out at some party over the past few years and have had to listen to some arrogant Martin-ite go on about how wonderful life was going to be once Cretien was ousted and Paul Martin was Prime Minister.

ALICE: You can't?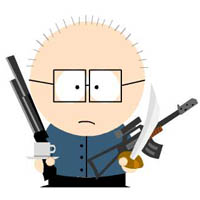 BLAMB: Actually, I can: three. And every time, I always thought about how pathetic their delusions were and how Martin would never live up to the hype and expectations. And look what happened. He's a lame duck on the express bus to Kim Campbellville.

ALICE: But I just worked on contracts. I wasn't involved in all that money shuffling and graft and corruption.

BLAMB: Yeah, yeah, tell it to the judge. What's really odd is how NDP support has dropped through all of this. It's ridiculous how the NDP continue to confine themselves to the margins when they have so many opportunities these days. They may think that they're standing by their values and core constituencies, but they're letting down the rest of the country, they're not even an effective alternative voice anymore. It would be nice if they'd join everybody in this century.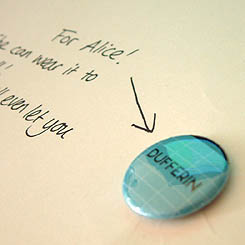 ALICE: Do I look like someone who gives a damn?

BLAMB: Well, I'm not throwing away any more votes on the NDP if they can't get it together.

ALICE: I'm sure they're shakin' in their boots.

BLAMB: Oh, cheer up! Look what Eva, Queen of the Duff, sent you in the mail.

ALICE: A button?

BLAMB: Yeah, you can wear on your outfit .... in jail!
2:34 AM , # , |