About
happycreature[at]gmail[dot[com]


Sunday, May 15, 2005
The Long Walk
Every year we walk a little farther. Yesterday was the longest yet, 27.5 km. It was a tough year and I was irritable and suffering from burn-out last week. A solitary trek to decompress helped.

Zack & I took the subway up to the top of the city to start: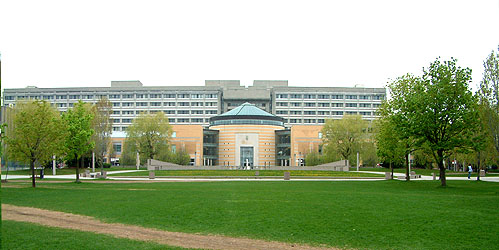 Start: York University [low res satellite map]

I haven't been to York in a few years and the alumni mail keeps announcing new buildings, so I reckoned the university would make a good location for the start of this year's trip. In the past, I've always started the walk from home and wandered (last year we walk from home to Fairview Mall) and took transit home from the destination, but this year it seemed like it might be better to flip the trip to arrive home at the end, when we're beat.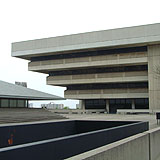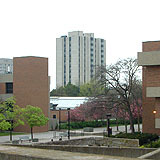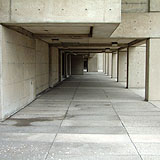 Here's what York looked like when I was a student there. Stark and isolated, populated by 60s sci-fi-style grey, concrete buildings. [above, left] The main campus library, a popular location for shooting car commericals. [above, centre] Vanier Residence, home for four years [above, right] Lots of concrete under the Ross Building.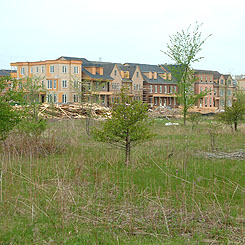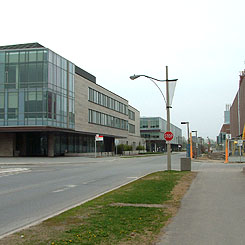 It's still isolated, but the campus is slowly being knit into the city [above, left] a new neighbourhood is under construction on the southern edge of the campus [above, left] Lots of new buildings make the place seem a little less empty, but many of them seem a bit too typically institutional.

[right] Another weekend, another groundhog.

We walked south on Keele to Finch and started walking east.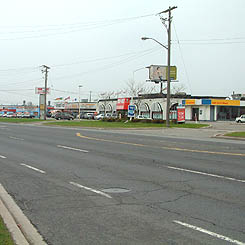 3km. Finch in this area is the worst kind of suburban hell [above, left] but there are still some hidden gems, like this coffee shop [above, right]. If there's one thing I like, it's sweet Blenz from the country! Mmmmmmm, Blllennnzzzzz ...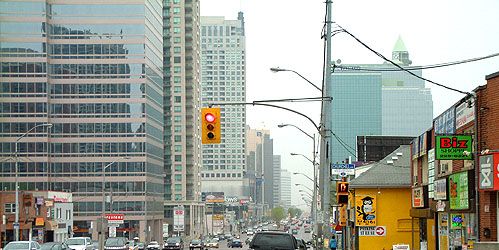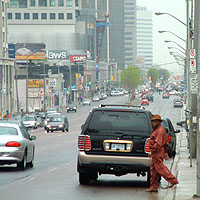 9km. The walk across Finch was dull and it started to drizzle. But, bit by bit, signs of life began to appear and at Finch & Yonge [pics look south from Finch, satellite] we reached the northern tip of the Yonge subway line and the city's "second downtown" (this was the first second downtown, but there are more 'hubs' forming at Scarborough Town Centre and somewhere in Etobicoke).

We walk south on Yonge and it's a much better walk than it was a decade ago when this was just another sparse suburban strip. Now it's a bustling street with lots of buildings and pedestrians .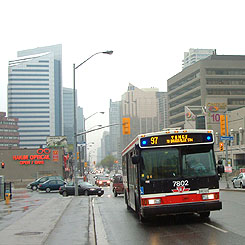 11km. [right, looking north from Sheppard] We stopped at Mel Lastman Square and grabbed some lunch from a hot dog vendor and sat for a minute. Yes, I gave Zack a hot dog, no it was not cannibalism because hot dogs are not made from actual dogs. We continued south where we had to cross beneath the 401 highway, the worst part of the trip because the sidewalk under the bridge is a metre-wide stump with heavy traffic rushing past. The pedestrian crossings are difficult to navigate because no one ever thought people would want to walk all the way down Yonge.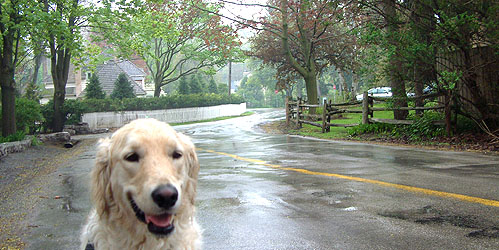 14 km. Hogg's Hollow [satellite] is like a little country village and the residents fight to keep it that way - a few years ago, they fought the city when it tried to put curbs on the road. I'm from an actual country village where they not only put curbs on the residential streets, they paved some of them with three lanes of solid concrete.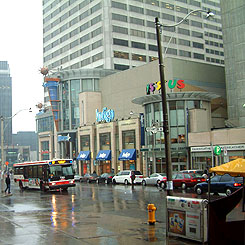 17.5 km. South to Eglinton [satellite]. The streetscape in the middle of the photo is only a few years old. The office complex on this corner is one of those 70's style concrete bunkers and the previous streetscape was a wall of solid concrete. Like at York, the renovations have made the street a friendlier place. At this point, it was finally raining for real.

This used to be my intersection in the early 90s. We could have kept walking south, but Straight Down Yonge was the 2003 Long Walk.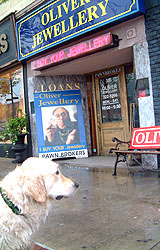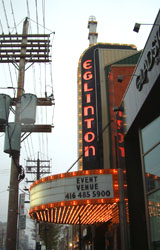 We turned and walked West on Eglinton. [above, left] Zack considered pawning his collar at Russell Oliver's. [above, centre] The Eglinton used to be the best place in the city to catch a flick, now it's been renovated into an "event theatre". [above, right] The Beltline Trail is an old railway turned into a wooded trail.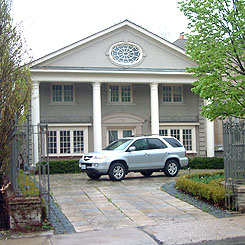 20 km. We walked south, through Forest Hill. A walk through Forest Hill shows you that while money can buy a lot of things, good taste isn't one of them. Toronto has two neighbourhoods where the wealthy congregate: Rosedale and Forest Hill. Renovations and new construction are slowly making Forest Hill tackier and tackier ...

Forest Hill also has a little downtown on Spadina Road, but for all the wealth centred there, the strip is completely unremarkable and not worth a pic.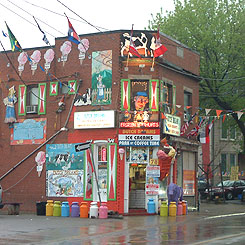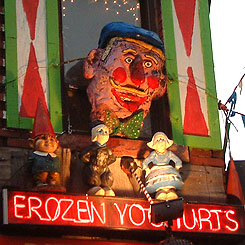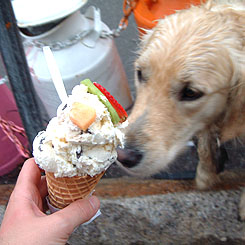 22 km. At St. Clair & Vaughn [satellite] we stopped for ice cream at Dutch Dreams. Zack was jealous. And for good reason, the cone was good.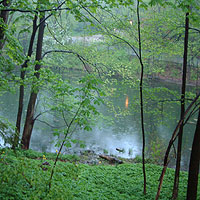 We walked south, through Wychwood Park [right], which was a former artist's colony but now is a wooded neighbourhood just off Davenport Road. From here we walked for a bit on Davenport and then down to Dupont to Shaw Street.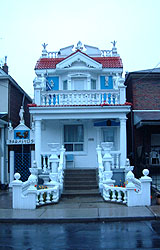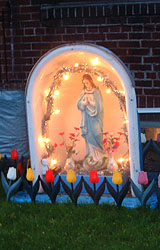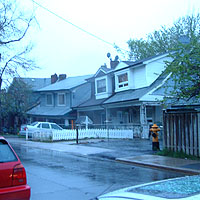 On Shaw there's this gloriously overdone house [above, left & centre] A few streets later, we spotted a good use for an old bathtub: stick a virgin in it! [above, right].

The tilting houses of Shaw weren't built on solid ground [right], so now they tilt. A few houses down, some upstart has constructed a brand-new, non-tilting house.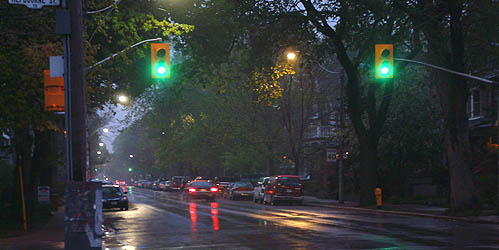 It was getting dark when we finally reached Dovercourt. We stopped in at the grocer, bought Saturday papers, rented a video and went home to rest our weary feet.

End: Home Time: 6 hrs

11:59 PM , # , |