About
happycreature[at]gmail[dot[com]


Sunday, June 05, 2005
Intelligent Design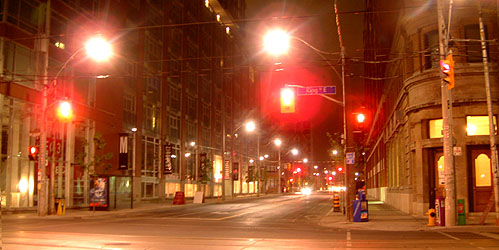 King East

I was over at Medlab's playing videogames.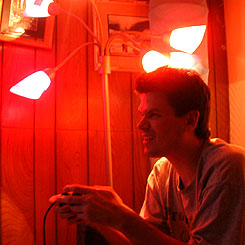 BLAMB: Hey! Primal Rage! This one's a classic. I used to love this game. The character animation is excellent!

MEDLAB: Ok, let's fight ...

BLAMB: I want to be the monkey! He's got a special move. When he kills his opponent, he pees on him.

MEDLAB: What?

BLAMB: You'll see it when we play.

MEDLAB: That's disgusting!

BLAMB: No it's not.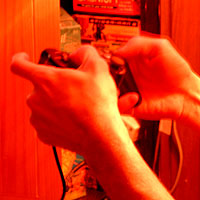 MEDLAB: He pees on his dead enemy's body?

BLAMB: It's like acid pee. It dissolves the corpse.

MEDLAB: Yeesh.

BLAMB: It's a frank representation of the brutality of the natural world. If National Geographic was doing a documentary on monkeys, do you think they'd omit the fact that monkeys sometimes pee and fling poop at you?

MEDLAB: This isn't National Geographic, it's mutants and dinosaurs fighting with super powers.

BLAMB: I know, but think about it in the context of their era. The pee fatality move is simply one of the realities of living in a post-apocalyptic world. As horrifying as it may seem to those of us sitting in our comfortable pre-apocalyptic livingrooms, it's part of nature's beauty. It's an expression of the full, rich diversity of life.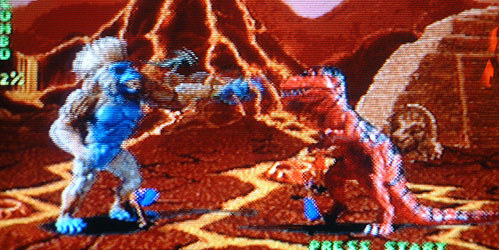 MEDLAB: But it's not an expression of the natural realm. Those sorts of behaviours and powers couldn't have evolved. Some sort of intelligence was at work -- look at them! They must have been genetically modified or something.

BLAMB: They could have evolved ...

MEDLAB: And if they're enhanced creatures, then there's no reason to include the pee move in the game because the creatures shown are not natural and this is not a Discovery Channel documentary.

BLAMB: It doesn't matter. The powers and the fighting moves aren't natural, but peeing certainly is.

MEDLAB: Super acid pee?

BLAMB: It's possible. The behaviour is natural.

MEDLAB: It's a stretch.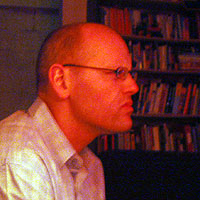 BLAMB: I suppose you also think the Puke Inhale Fatality is unnatural and offensive, too?

MEDLAB: It's one thing to beat your opponent, it's quite another to defile their corpse by peeing on it.

BLAMB: Oh, hey! You're almost dead! Get ready for the golden shower!

MEDLAB: No! Your guy is almost dead too ... Aw! Crap!

BLAMB: Here's we go ... GODAMMIT! PEE ON THE DINOSAUR, YOU STUPID MONKEY!

MEDLAB: He isn't peeing.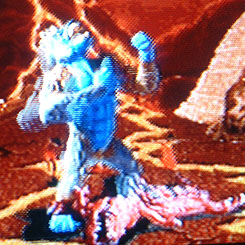 BLAMB: He's just beating his stupid chest. Where's the list of moves?

MEDLAB: It's not listed on here.

BLAMB: Bloody hell. It's not Blizzard who pees on his opponents, it's Chaos, the little, crazy monkey.

MEDLAB: Too bad.

BLAMB: That actually makes sense when you think about it. Smaller, less evolved primates would be inclined to experience a more primal form of rage than the noble apes, therefore they would be more apt to pee on the broken bodies of their victims.

MEDLAB: The amount of rage could have been determined by genetic modification.

BLAMB: What's with the technological fundamentalism? Restart the game and get ready to be PEED ON!
12:09 PM , # , |