About
happycreature[at]gmail[dot[com]


Wednesday, August 31, 2005
Tales from the Condom Tree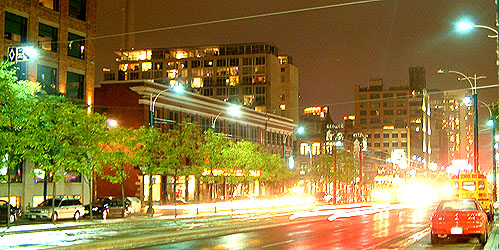 Queen & Spadina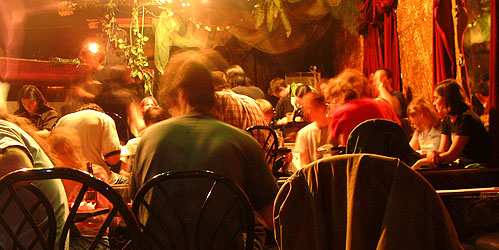 The Monthly Toronto Comic Jam @ The Cameron House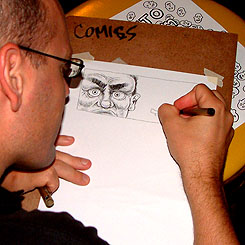 The remnants of hurricane Katrina were passing over the city and I was at the Jam drawing a duck when Dave Lapp and Nadia peeked over my shoulder [Nadia's post is here featuring my hand gestures].

NADIA: Is that guy talking to a duck?

BLAMB: Yeah! A guy talking to a duck, whoever heard of such a thing? Funny, eh?

DL: I guess ...

BLAMB: Come on! Ducks are funny! Daffy Duck, Donald Duck, Howard the Duck, Duck & Cover ...

NADIA: It depends on how the duck is presented. Ducks Unlimited isn't funny. You can't just rely on ducks to get cheap laughs.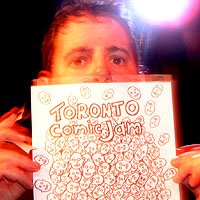 DL: If you want a cheap laugh, you know what works?

BLAMB: Swiss cheese?

DL: CONDOMS!

BLAMB: Hmmmm, you might be right. Didn't you guys find some Condom Tree somewhere?

NADIA: In Queen's Park.

DL: It's weird, some trees have one or two condoms beneath them but there's this one tree where there are a bunch of condoms. I counted fifteen once.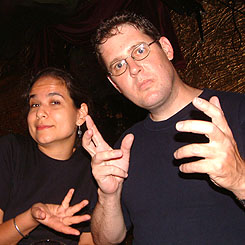 BLAMB: Gee, what's the attraction?

DL: I dunno. It's a really big tree.

BLAMB: Maybe there are little condom elves living in it.

NADIA: Making their cookies and their condoms.

DL: The night we visited, we sat on a bench and watched for a while to see if anything would happen ... but we didn't see anything. No elves, trolls or other woodland creatures ... not even a racoon.

BLAMB: I want to go and seek out the Condom Tree now! It sounds like this year's secret swing! But with condoms.

Just then, JamMaster Dave Howard joined us.

DH: You guys are still on about the Condom Tree?

BLAMB: It sounds like such a magical place. What exactly happens under a Condom Tree?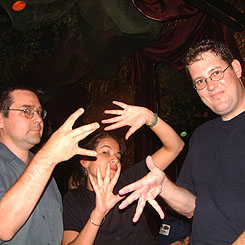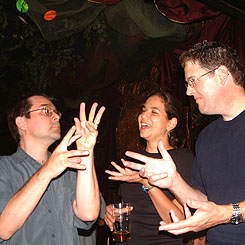 DH: Well, first you do the this ...

NADIA: And you put the thingy in the area ...

DL: And you maneuver your arrangement into the location ...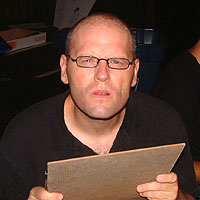 BLAMB: I don't see it.

D: It's positioning.

DH: It's timing.

NADIA: It's so simple, why do we even need to explain it to you?

BLAMB: So, it's like sex?

DL: What did you think they were doing with the condoms?

BLAMB: I dunno ... elf stuff.

DL: Some of the ones we found were filled with ... er, custard.

ALL: EWWWW ...

DH: This is the one case where 'jizzz' is a a less obscene word than 'custard' ...

BLAMB: But elves MAKE CUSTARD!
12:53 AM , # , |