About
happycreature[at]gmail[dot[com]

[ BLAMBLOG ]
Ed Locke's Grandpa
Happy Creature
Ms. Johnson

[ PILOTS! ]

Azerbic
BlaggBlog
Cityrag
Clusterfuck Nation
Daily Muse
Dead Robot
democraticSPACE
Enter the Chapel
estrojenn
50 Most
Finn's Space
John Gushue
Panopticist
Patrick Byck
PAVED
PezGirl
Simple Splendor
Raspberry Sundae
TBIT


[ A-TEAM ]
AllThingsChristie & BWE
Bill Doskoch
Circadian Shift
Daily Dose
Davezilla
Dooce
Jett Superior
Kitty Bukkake
Sugarmama
Tony Pierce


[ TORONTO ROCKS ]
Accordion Guy
Alan Hunt
Andrew Spicer
Angie McKaig
armchair garbageman
Bacon and Eh's
BlogTO
Bored Astronaut
Cellar Dweller
Chip Tijuana
Chromewaves
Clara*
Consolation Champs
Biker Chick
Dave Howard
Day in the Life
Digifox
Easternblog
freckle stof
Help!
Ice Queen
indigoblog
JBWarehouse
Liz Vang
Luminescent
Lunerose
Maria
Marmalade
moot point
Nug
Photojunkie
Pony
Pshaw
Radio Weisblogg
Raymi
Riri's Braindump
RobotJohnny
Sally McKay
Sarah Pengelly
Secret Storm
ShanghaiM
Squiddity
Ultrablog
United Bingdom
wainbows
Warren Kinsella
Zoilus

[ ALL IN THE FAMILY ]
Merv!
Dad!
Gillian
Kevin!

[ ORGANIZIZED ]
GTA Bloggers
TorontoComic Jam
[ BEACHCOMBERS ]
Confessions of a Monkey
Good, Matthew
Good, Jennifer
Ian King
Jeff Merritt
[ GOTHAM CITY ]
Explananda
Lindsayism
My Blog is Poop
Rocketboom
Yoon!

[ ST. ELSEWHERE ]
Blogebrity
blogumentary
Brett Lamb: Oz
Bunny McIntosh
Dust My Broom
elanamatic
Fred the Blog
Go Fug Yourself
Grrrl Meets World
James Bow
Little Lioness
72hrchik
SKSmith
Shelly
Skillzy
Tom Tomorrow

[ 6 O'CLOCK NEWS ]
boing boing
Cursor
Drawn!
Fark
Garlicster
Metafilter
Plastic
The Register
SciFi Daily
Sexblogs
Slashdot
Space.com
The Smoking Gun
Zeropaid
[ CARTOONS ]
Corrigan
Children
of the Atom
Fiona Smyth
Maakies
MacKay
MNFTIU.cc
Secret Lair
Smell of Steve
[ VARIETY HOUR ]
B3TA
Hoogerbrugge
Milk & Cookies
Mumbleboy
Onion
Rathergood
XE
[ RERUNS ]

[ 2005 ]
JANUARY
FEBRUARY
MARCH
APRIL
MAY
JUNE
JULY
AUGUST
SEPTEMBER

[ 2004 ]
MAY
JUNE
JULY
AUGUST
SEPTEMBER
OCTOBER
NOVEMBER
DECEMBER
[ 2002 ]
[ 2003 ]
Tuesday, January 10, 2006
Run Away! Run Away!
After tonight's debate, the decision seems to be unanimous across the blogs: Steve Paikin will be the next Prime Minister of Canada!

During the debate, Harper was leering and trying to make it obvious that he and Jack are soulmates and that ... THAT ... that was the moment when I decided to vote Liberal. Turns out I would rather have another Liberal minority that risk giving any power to Harper and his creepy collection of Reform Party social conservatives.

I rented the 40-year-old Virgin movie over the holidays and it was funny. But having a group of forty-year-old virgins running the country would be a nightmare. That's right, I was never great at playing chicken.

Speaking of stuffed dinosaurs and Jesus, isn't it odd that Kinsella has the time & skillz to stick text ads on his site but not permalinks? Aren't those Paul Martin-esque priorities?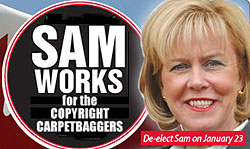 Don't let Sam Bulte off the hook. She's still gotta be replaced by Peggy Nash. Accordion Guy is continuing to campaign against his incumbent and posted a response by indie artists:

Furthermore, CRIA's boast that they represent more than 95% records produced and sold in Canada is misleading. In fact, they represent the interests of the "Canadian" major labels, who are in fact cultural importers (largely of US acts) rather than exporters of Canadian artists. Very often Canadian artists like Danko Jones have to sign to foreign labels in order to export their own music. CRIA's close ties to MP Bulte ("they are my friends", she explained) are questionable and objectionable.

If any non-Canadian readers are still left, I promise NO Canadian politics for the next few posts. Sorry, I got a little carried away.
12:34 AM , # , |