Monday, September 25, 2006
The Unwritten Book
REVIEW by Sharky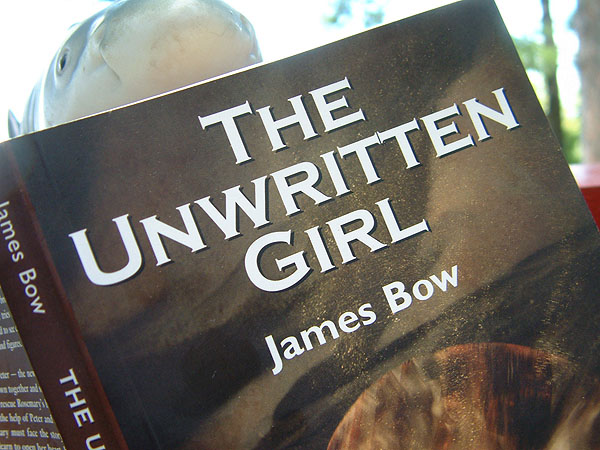 Do you like books? Sure ya do! I like 'em, too. Especially the books that ya' read! The Unwritten Girl is the first novel by blogger and transit fetishist, James Bow. I just read it and here's my two cents:

I liked the book because it's a lot like TRON. Regular people -- just like you and me -- descend into an irregular world of awe and wonder. The story follows Rosemary and Pete as they travel through 'The Land of Fiction' to rescue her brother, Theo, just as Jeff Bridges travelled through 'The Land of Computers' to rescue his gaming code and save Bruce Boxleitner. Except that Unwritten Girl is aimed at a young adult audience and TRON is for mature audiences only.

But I digress.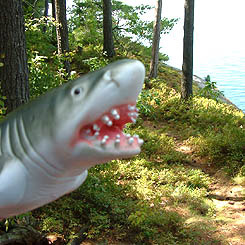 Bow succeeds as a first-time author by spinning a light, lean tale (although, at the end you learn that the title of the book doesn't make any sense ... unlike the title of this review). The target demographic is "young adult" and I'm told that's kids 10-12 ... which is funny, 'cause that's the same term used by thirty-year-olds to describe their age group. Of course, the 'teen porn model' age group is 26-42, so I guess it all makes sense.

The novel starts strong but after entering 'The Land of Fiction' I was left wondering what could have been: the unwritten book. Rosemary's brother's mental illness haunts the opening chapters and seems like it's going to be a key ingredient of the story. But after the characters enter 'The Land of Fiction', the mental illness bit is pretty much dropped.

I was expecting his mental ilness to be one of the reasons (or THE reason) for the journey. It's a rule of drama: if you show a mental illness in the first act, you'd better have pulled the trigger by the end. Instead, we're treated to a string of somewhat amusing characters who appear without consequence. In the end, the most promising part of the early chapters remains unexplored ... much like the deep-rooted, unresolved emotional problems of Jeff Bridges' character at the end of TRON.

You want to know my advice for Bow? Ditch the fantasy and take the real-world story from the first chapters and explore that. That's where the meat is; the proof is in the pudding!

Xmas is coming and you can buy the book online at Amazon. A good gift for brats 10-12 who have an insatiable appetite for fantasy fiction wrapped in a thick, juicy slab of precious Victorian-styled sentimentality. Stick it in their stockings and get them to shut up for a few hours.
8:29 PM , # , |



Contact
info[at]brettlamb[dot]com

My Cartoon Archives
HAPPY CREATURE
MS. JOHNSON
ED LOCKE
Regular reads
Accordion Guy
Bill Doskoch
Daily Dose
Davezilla
Tony Pierce
Warren Kinsella
News
BlogTO
boingboing
Cursor
DIGG
Dork Shelf
Drawn!
FoodForethought
Fleshbot
Garlicster
Global Nerdy
MetaFilter
Mondoville
The Oil Drum
Reddit
The Register
Slashdot
Space.com
Spacing Wire
Torontoist
Treehugger
ZDNet

Arts & comics
Children of the Atom
Chromewaves
Comic Strip
Corrigan
DeadThingsonSticks
Dinosaur Comics
Hollywood North Report
Maakies
MacKay
Sally McKay
Secret Lair
Toronto Comic Jam
Zoilus
Audio
The Bugle
Coverville
Radio Clash
Ramdom Thoughts

Video
Channel101


Toronto blogs
Circadian Shift
Consolation Champs
Crazy Biker Chick
Day in the Life
Dead Robot
Easternblot
estrojenn
Exhausticated
Free Clara
JB Warehouse & EmporiumLiz Vang
Luminescent
Marmalade
Merv
Naked KnitGirl
Photojunkie
Pony
Pshaw
Raymi the Minx
Robot Johnny
Searching for Tao
Secret Storm
Squiddity
TBIT

Canadian blogs
Simple Spendor
Sooey
Confessions of a Monkey
Dust My Broom
Grrl Meets World
Ian King
James Bow
Simple Spendor
Sooey
View from up here


USA blogs
Cityrag
democraticSPACE
Dooce
Explananda
Fred the Blog
Jett Superior
Maakies
MegaBeth
Panopticist
Yoon Choi

Oz blogs
Brett Lamb: OZ
Little Lioness
Penguin Says Yes

UK
B3TA
Rathergood
Brett Lamb


Create Your Badge
A R C H I V E S
2009
JANUARY
FEBRUARY
MARCH
APRIL
MAY
JUNE
JULY
AUGUST
SEPTEMBER
OCTOBER
NOVEMBER
DECEMBER
2008
JANUARY
FEBRUARY
MARCH
APRIL
MAY
JUNE
JULY
AUGUST
SEPTEMBER
OCTOBER
NOVEMBER
DECEMBER

2007
JANUARY
FEBRUARY
MARCH
APRIL
MAY
JUNE
JULY
AUGUST
SEPTEMBER
OCTOBER
NOVEMBER
DECEMBER

2006
JANUARY - 1
JANUARY - 2
FEBRUARY
MARCH
APRIL
MAY
JUNE
JULY
AUGUST
SEPTEMBER
OCTOBER
NOVEMBER
DECEMBER
APRIL
MAY
JUNE
JULY
AUGUST

2005
JANUARY
FEBRUARY
MARCH
APRIL
MAY
JUNE
JULY
AUGUST
SEPTEMBER
OCTOBER
NOVEMBER
DECEMBER


2004
MAY
JUNE
JULY
AUGUST
SEPTEMBER
OCTOBER
NOVEMBER
DECEMBER
[ 2003 ] [ 2002 ]