Thursday, April 29, 2010
The End
Bairrada Churrasqueira, College Street

It was shortly before Eva left the country and we moved out of the apartment ...




BLAMB: See this shirt? This shirt I'm wearing right now?

MARIA: It's a fukkin' grey shirt.

BLAMB: I used to have pyjamas just like this shirt. Damn I miss those pyjamas. But that was ten years ago ...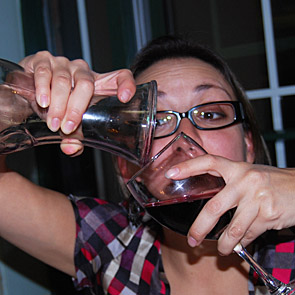 MARIA: What? You're mourning your fukkin' pyjamas? You're mourning your pyjamas ten years later? Did you have a pyjama funeral for them when they died?

BLAMB: They were great pjs ...

MARIA: Did they get buried or cremated? Maybe you should have a seance to get back in touch with them.

EVA: Amber should buy you some new pyjamas.

AMBER: I did. He keeps repeating this story about those grey pyjamas.

MARIA: What if you went back in time and found those pyjamas again and realized that you hate them?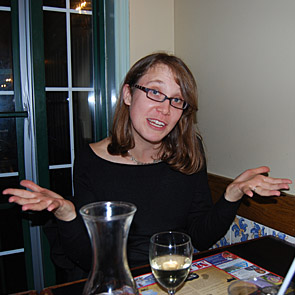 JENN: Maybe it's not the pyjamas you miss. Maybe you miss that time of your life.

BLAMB: Nope, its the pyjamas.

MARIA: They have a fukkin' internet now and you can go online and find any pyjamas you want. I bet you could find places that tailor pyjamas for you. Don't get hung up on a fukkin' cheap pair of pyjamas you bought at The Bay when you still had hair.

EVA: Pre 9/11 pyjamas?

BLAMB: I was wearing them on 9/11.

JENN: Everyone remembers what they were wearing on 9/11.

BLAMB: That's right, grey pyjamas.

MARIA: You know what would suck?

ALL: What?

MARIA: Being naked on 9/11.

EVA: Here. Find some new pyjamas.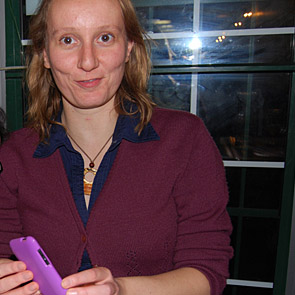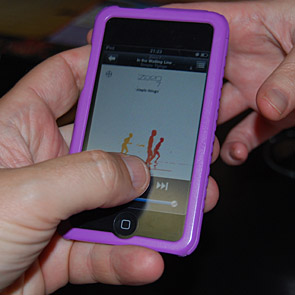 BLAMB: Is this an ipod or an iphone?

EVA: What do you think?

BLAMB: I think it's a generic "i"-branded device.

MARIA: Remember when computers used to be gigantic, man?

BLAMB: You know, my favourite computer, from way back in the 80s was the size of a ...

EVA: A suitcase?

MARIA: A barn?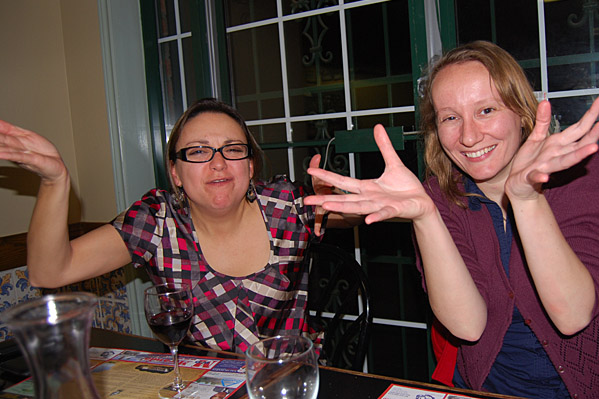 BLAMB: Well, it was a C64, so it was the size of a keyboard.


JENN: Funny, people used to write sentimental songs about old movies but they don't write them about old computers.

BLAMB: Call Ian Thomas.

MARIA: Or Vangelis.

EVA: Who the hell is Ian Thomas?

BLAMB: Ian Thomas is a famous singer. How could you not know who Ian Thomas is. I think he's also Heather Thomas' brother.

AMBER: Hey, something's wrong.

BLAMB: What time is it? We have to get home in time for 'The Fall Guy'.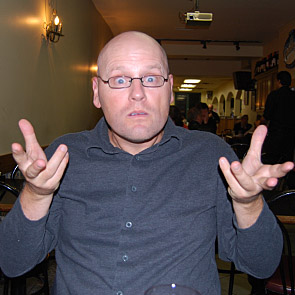 MARIA: He's in some kind of daze.

BLAMB: Duuuuhhhh ...

EVA: Wait a minute ... Brett, what year is it?

BLAMB: It's 1982!

EVA: He accidentally activated the hypnotism app on the i-device. He thinks he's gone back into the past!

MARIA: But he's gone too far!

BLAMB: Did you guys watch 'Real People' this week?

JENN: Who cares ... ask him about his pyjamas!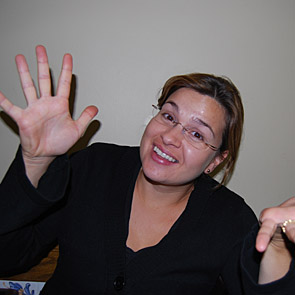 AMBER: Brett, you've gone too far. You were only supposed to go back to 2001.

MARIA: What kind of pyjamas are there with you?

BLAMB: Oh no .. oh no ... the pyjamas here are terrible!

EVA: Leave the 80s ... come forward in time!

MARIA: Yeah, but don't go to like ... the year 3000 or something like that.

JENN: Brett?

EVA: Are you there?

BLAMB: I'm in the year 3000. I'm a guest at the Ryugyong Hotel. I think someone just set off an atomic bomb ...

MARIA: Ok, whatever. What about the fukking pyjamas? How are those?

BLAMB: Well ....

Everyone leans forward.

BLAMB: They're perfect!
10:15 PM , # , |



Contact
info[at]brettlamb[dot]com

My Cartoon Archives
HAPPY CREATURE
MS. JOHNSON
ED LOCKE
Regular reads
Accordion Guy
Bill Doskoch
Daily Dose
Davezilla
Tony Pierce
Warren Kinsella
News
BlogTO
boingboing
Cursor
DIGG
Dork Shelf
Drawn!
FoodForethought
Fleshbot
Garlicster
Global Nerdy
MetaFilter
Mondoville
The Oil Drum
Reddit
The Register
Slashdot
Space.com
Spacing Wire
Torontoist
Treehugger
ZDNet

Arts & comics
Children of the Atom
Chromewaves
Comic Strip
Corrigan
DeadThingsonSticks
Dinosaur Comics
Hollywood North Report
Maakies
MacKay
Sally McKay
Secret Lair
Toronto Comic Jam
Zoilus
Audio
The Bugle
Coverville
Radio Clash
Ramdom Thoughts

Video
Channel101


Toronto blogs
Circadian Shift
Consolation Champs
Crazy Biker Chick
Day in the Life
Dead Robot
Easternblot
estrojenn
Exhausticated
Free Clara
JB Warehouse & EmporiumLiz Vang
Luminescent
Marmalade
Merv
Naked KnitGirl
Photojunkie
Pony
Pshaw
Raymi the Minx
Robot Johnny
Searching for Tao
Secret Storm
Squiddity
TBIT

Canadian blogs
Simple Spendor
Sooey
Confessions of a Monkey
Dust My Broom
Grrl Meets World
Ian King
James Bow
Simple Spendor
Sooey
View from up here


USA blogs
Cityrag
democraticSPACE
Dooce
Explananda
Fred the Blog
Jett Superior
Maakies
MegaBeth
Panopticist
Yoon Choi

Oz blogs
Brett Lamb: OZ
Little Lioness
Penguin Says Yes

UK
B3TA
Rathergood
Brett Lamb


Create Your Badge
A R C H I V E S
2009
JANUARY
FEBRUARY
MARCH
APRIL
MAY
JUNE
JULY
AUGUST
SEPTEMBER
OCTOBER
NOVEMBER
DECEMBER
2008
JANUARY
FEBRUARY
MARCH
APRIL
MAY
JUNE
JULY
AUGUST
SEPTEMBER
OCTOBER
NOVEMBER
DECEMBER

2007
JANUARY
FEBRUARY
MARCH
APRIL
MAY
JUNE
JULY
AUGUST
SEPTEMBER
OCTOBER
NOVEMBER
DECEMBER

2006
JANUARY - 1
JANUARY - 2
FEBRUARY
MARCH
APRIL
MAY
JUNE
JULY
AUGUST
SEPTEMBER
OCTOBER
NOVEMBER
DECEMBER
APRIL
MAY
JUNE
JULY
AUGUST

2005
JANUARY
FEBRUARY
MARCH
APRIL
MAY
JUNE
JULY
AUGUST
SEPTEMBER
OCTOBER
NOVEMBER
DECEMBER


2004
MAY
JUNE
JULY
AUGUST
SEPTEMBER
OCTOBER
NOVEMBER
DECEMBER
[ 2003 ] [ 2002 ]