[ ABOUT ]

This blog covers my experiences at
Hot Docs 2005.
[ BLOGS & PUBS]
indiewire
Blamblog
Blogumentary
Docfilmweblog
Cinematical
docfilms.net
GTA Bloggers
Playback
[ FESTIVALS ]
- TORONTO -
Hot Docs
TIFF
Images Fest
Inside Out Fest
Worldwide Short Film Fest
One Minute Film Fest
Reel Asian Fest
- INTERNATIONAL -
IDFA
IDA
Full Frame
Sundance
Cannes
DOXA
Shadow
SilverDocs
Iowa City
[ ORGANIZATIONS ]
Saturday, April 23, 2005
The Fest Begins

Design Exchange, King & Bay, Toronto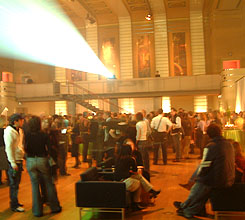 The 12th Hot Docs Festival started in style with a party on the floor of the historic Toronto Stock Exchange (now the Design Exchange). A huge crowd mingled and grooved to tunes spun by nanmac.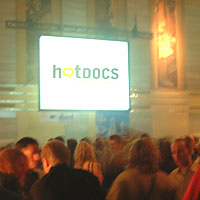 It was a great space for a party. In past years, this event was held in Walker Court at the AGO which is now closed for the Gehry reconstruction.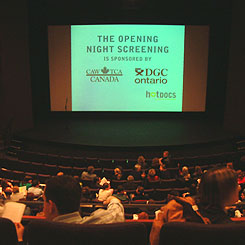 Earlier in the evening we took in the screening of Murderball at the Isabel Bader Theatre (I thought it was going to be at the Bloor right up to the screening ... whoops). It's a great, action-packed flick and worth catching if it repeats.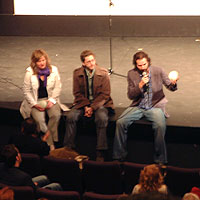 Directors Henry Alex Rubin and Dana Adam Shapiro (seated with International Showcase programmer, Shannon Abel) took questions from the audience following the show.

Saturday
The Canadian Spectrum opens with the world premiere of The Cross and Bones, 7pm at the Bloor Cinema (no, really). This afternoon I'm sponsoring the world premieres of Icebreaker and Operation Homecoming, 4:45 at the Isabel Bader.
2:59 AM , # , |