[ ABOUT ]

This blog covers my experiences at
Hot Docs 2005.
[ BLOGS & PUBS]
indiewire
Blamblog
Blogumentary
Docfilmweblog
Cinematical
docfilms.net
GTA Bloggers
Playback
[ FESTIVALS ]
- TORONTO -
Hot Docs
TIFF
Images Fest
Inside Out Fest
Worldwide Short Film Fest
One Minute Film Fest
Reel Asian Fest
- INTERNATIONAL -
IDFA
IDA
Full Frame
Sundance
Cannes
DOXA
Shadow
SilverDocs
Iowa City
[ ORGANIZATIONS ]
Saturday, April 30, 2005
Hot Docs Awards Night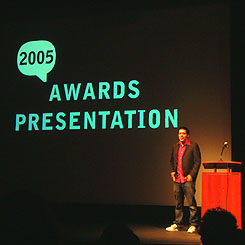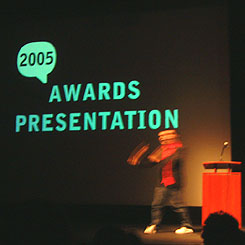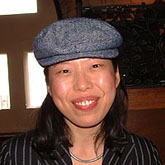 HAW! Host George Stroumboulopoulos shows off his moves at the start of the Hot Docs Awards Ceremony. The full list of awards winners, honourable mentions and an archive of past winners can be found here. The Audience Award will be announced on Monday after the votes are counted.

This year, Street Fight (screening again tonight at the Bloor at 9:30pm) won Best International Documentary and Hogtown: The Politics of Policing (directed by Min Sook Lee, right) won Best Canadian Feature Length Documentary. Hogtown is showing again on Sunday at 2pm at the Bloor Cinema.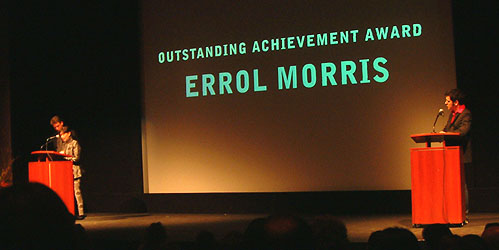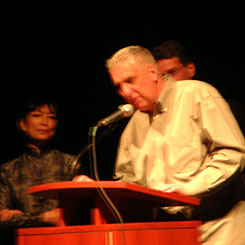 Festival Co-chairs, Louise Lore and Michael McMahon, introduce this year's Outstanding Achievement Award winner, Errol Morris. Morris (left, accepting the award) appears in an on-stage interview tonight with film critic Gerald Peary.

The Awards Presentation was followed by a party at UofT's Victoria College.

Sunday - Closing Night!

The Hot Docs Daily Bulletin has a listing of the films showing on the final day of this year's festival. The big finish is the Closing Night Screening, Heysel '85, Requiem for a Cup Final and the Closing Night Party at the Royal Ontario Museum.
11:16 AM , # , |