[ ABOUT ]

This blog covers my experiences at
Hot Docs 2005.
[ BLOGS & PUBS]
indiewire
Blamblog
Blogumentary
Docfilmweblog
Cinematical
docfilms.net
GTA Bloggers
Playback
[ FESTIVALS ]
- TORONTO -
Hot Docs
TIFF
Images Fest
Inside Out Fest
Worldwide Short Film Fest
One Minute Film Fest
Reel Asian Fest
- INTERNATIONAL -
IDFA
IDA
Full Frame
Sundance
Cannes
DOXA
Shadow
SilverDocs
Iowa City
[ ORGANIZATIONS ]
Monday, April 25, 2005
More Reviews
James McNally provides more festival reviews on his blog, Consolation Champs: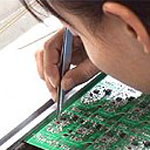 A Decent Factory (7/10)
Screens again tomorrow,
7pm at the Innis Town Hall and on Saturday, 7pm at the Bloor Cinema.

Beneath the Stars (8/10)

There's also a pic of the Opening Night Q&A at the Daily Dose of Imagery photoblog.
1:19 PM , # , |