[ ABOUT ]

This blog covers my experiences at
Hot Docs 2005.
[ BLOGS & PUBS]
indiewire
Blamblog
Blogumentary
Docfilmweblog
Cinematical
docfilms.net
GTA Bloggers
Playback
[ FESTIVALS ]
- TORONTO -
Hot Docs
TIFF
Images Fest
Inside Out Fest
Worldwide Short Film Fest
One Minute Film Fest
Reel Asian Fest
- INTERNATIONAL -
IDFA
IDA
Full Frame
Sundance
Cannes
DOXA
Shadow
SilverDocs
Iowa City
[ ORGANIZATIONS ]
Thursday, April 28, 2005
Parties
Spotlight on Israel Party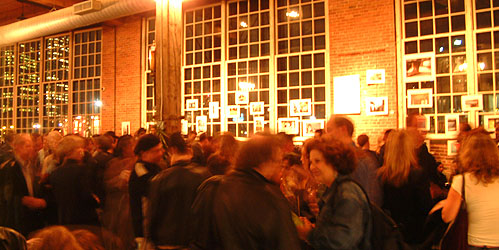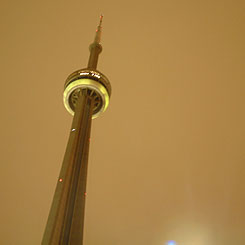 It was standing room only Wednesday night at the National Spotlight party held at the Steamwhistle Brewery in the Roundhouse at the foot of the world's tallest freestanding structure, the CN Tower. It was a solid crowd of filmmakers and other industry people.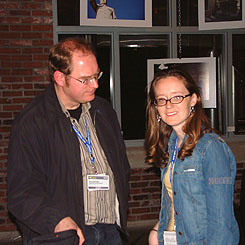 [right] Ron and Amy make parties happen. Ron is the Theatres Manager and organizes the fine volunteers (the people in the black shirts). He says they're an exceptional group this year. Amy is the Special Events Coordinator and if it wasn't for her, we'd all be drinking pop and eating chips and listening to music on tinny speakers plugged into somebody's ipod.

Thursday night the Documentary Organization of Canada held their party at the swanky C Lounge.

Friday
Tonight I'm sponsoring the Canadian Premiere of Werner Herzog's new film, Grizzly Man (7pm at the Bloor). Another excellent doc to check out is Bearing Witness (1:30pm, ROM Theatre).

The Hot Docs Awards ceremony is also this evening, hosted by George Stroumboulopoulos from CBC's The Hour.

Check out the daily bulletin for updates, press links and event slideshows.
11:40 PM , # , |