[ ABOUT ]

This blog covers my experiences at
Hot Docs 2005.
[ BLOGS & PUBS]
indiewire
Blamblog
Blogumentary
Docfilmweblog
Cinematical
docfilms.net
GTA Bloggers
Playback
[ FESTIVALS ]
- TORONTO -
Hot Docs
TIFF
Images Fest
Inside Out Fest
Worldwide Short Film Fest
One Minute Film Fest
Reel Asian Fest
- INTERNATIONAL -
IDFA
IDA
Full Frame
Sundance
Cannes
DOXA
Shadow
SilverDocs
Iowa City
[ ORGANIZATIONS ]
Monday, April 25, 2005
Programme Guide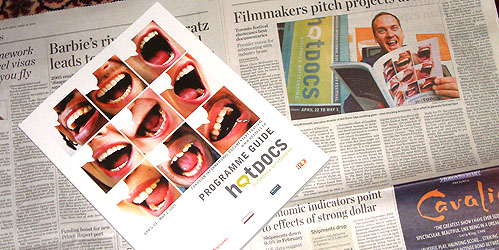 You can get a copy of the Hot Docs Programme Guide [above, being held by Hot Docs Executive Director Chris McDonald in a recent Toronto Star feature] at the Cadillac Box Office, downstairs at Sonic Boom Records (right next door to the Bloor Cinema). It's 164 pages of film descriptions and stills for $4!
1:02 PM , # , |