[ ABOUT ]

This blog covers my experiences at
Hot Docs 2005.
[ BLOGS & PUBS]
indiewire
Blamblog
Blogumentary
Docfilmweblog
Cinematical
docfilms.net
GTA Bloggers
Playback
[ FESTIVALS ]
- TORONTO -
Hot Docs
TIFF
Images Fest
Inside Out Fest
Worldwide Short Film Fest
One Minute Film Fest
Reel Asian Fest
- INTERNATIONAL -
IDFA
IDA
Full Frame
Sundance
Cannes
DOXA
Shadow
SilverDocs
Iowa City
[ ORGANIZATIONS ]
Thursday, April 28, 2005
Recommended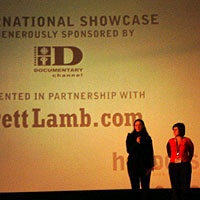 Director Edet Belzberg introduces her doc, Gymnast, last night at the Bloor. James gives it an 8/10 in his latest batch of reviews. It screens again at the Isabel Bader Theatre on Friday at 3pm.

He also reviews:

A Perfect Fake (8/10)

Lifelike (9/10)

Say Amen (7/10)

Keep Not Silent (8/10)

Boing Boing has a post about Enron: The Smartest Guys in the Room [via Kirby]. That film had its Canadian Premiere at Hot Docs last Sunday.

And on my blog: Gym night at Hot Docs!
8:51 AM , # , |