About
happycreature[at]gmail[dot[com]


Sunday, December 05, 2004
Making a Mess In 6 Easy Hours

Another night, yet another party; last night was my annual pre-holiday party thing. Booze not included. This year's edition was co-sponsored by my mom ... who thinks I'm cool.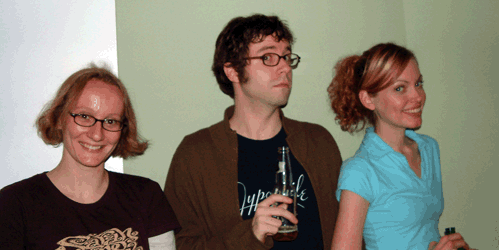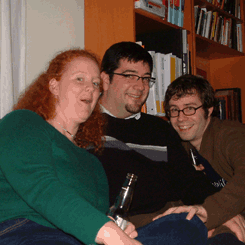 Speaking of cool, there were bloggers. [above] Eva, RobotJohnny, Christie (who arranged the food action, so thank her) & [left] The Armchair Garbageman, reunited again for the very first time after we saved this blog from the giant, trans-dimensional Kenny Rogers. Some of the other bloggers who showed their mugs: Dave, James, Brent, Brenda, Paul & Jenn.

[below] It was Zack's night to par-tay (and mooch). He had even more fun when Dave, his dog walker, showed up and took him out for a pee.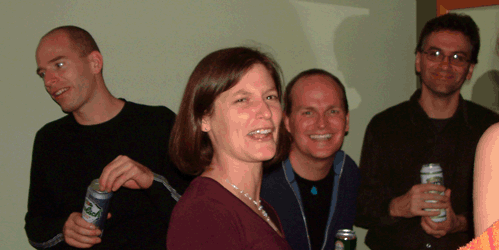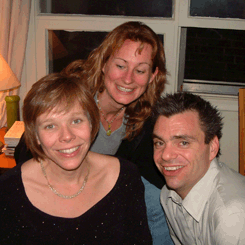 [above] "Are you gonna post this on your freaking blog?" Mike, Karen & Neil face the consequences of the internetish age.

[left] Lori considers a new hair style, passing on Warren's spikey look.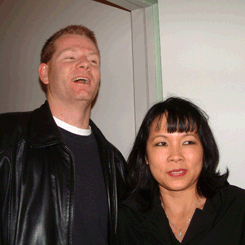 [above, left] Janet & Bob, content with their own hair. [above, right] Pete & Lisa dropped by to represent Glencoe, our hometown. I've known Pete since we were 4 (he lived two doors down) and he acted in many of our Super 8 movies and videos. Badly. He is not an actor. Not even close. You wouldn't believe how bad he is. Terrible.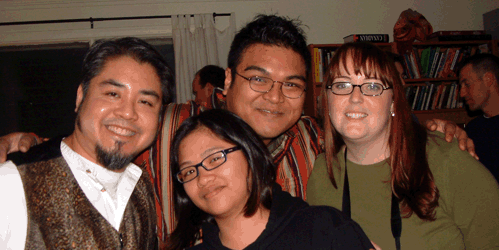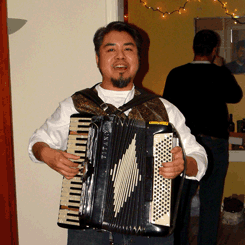 [above] Accordian Guy, Chelle & Rannie, visibly disappointed that a less-boozified Liz isnt licking their faces.

[left] Joey belts out some tunes. The bloggers were ready for it, but the rest of the crowd didn't know what hit 'em. Anita emailed today:

Thanks for a fun party! I woke up this morning, thinking, "Was there a guy playing the accordion last night or did I dream that?"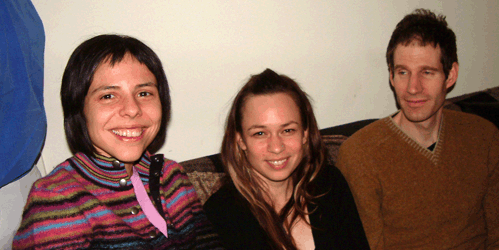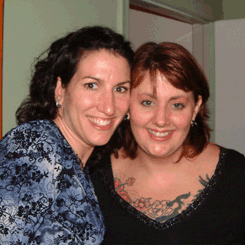 [above] Mariela and Jim brought along my new neighbour, Emma. She's only been in the 'hood a few days and she's already discovered the glory of the Dufferin Mall.

[left] Nancy & Jenn realized that they once knew each other ... in a parallel universe!

[below] Darryl in suave Robert J. Sawyer-mode.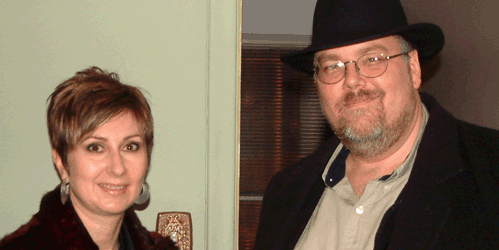 And that wraps up the hosting duties for '04! Except for the cleaning, which still needs to be done.

The holiday party season continues ...

11:03 PM , # , |