About
happycreature[at]gmail[dot[com]


Thursday, January 06, 2005
Featured Performer*
Dickson Coatsworth

Dickson, who appeared in the Canadian History Moment, is heading back to the West Coast. He was our next-door neighbour as kids and the "Bruce Campbell" of our group, appearing in most of our films and videos (he shows up in over 60 flicks from that period).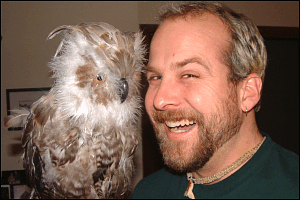 Dickson (pictured here with Professor Otto in 2003) worked as a DJ for several years (most recently as the morning man in Guelph at the same station as DJ Jenn) before giving it all up to work at a swanky wilderness resort out in BC.



In Cobana Jabaca (1987), Dickson (l) and Lou (r) were alien-hunting cowboys. In that flick's horrifying conclusion, Dickson is forced to put Brad Ross' character "out of his misery" after an alien mauling.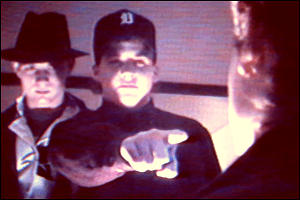 Dickson (with Pete) accuses the Farmer (Brad) of murder in Agent Antropi (1991). This one featured an exciting battle with shovels and at the end, my character gets killed with a crowbar.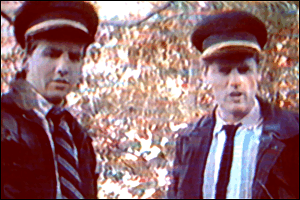 Hunting mutant spores with me (r) in Hell Pickle III (1987). During shooting of this one, Dickson had a board broken over his head and in the final fight scene, Brad kicked him (hard) in the gut. In the final scenes of the video, Dickson is on life support.

* from the '03 archives

10:15 AM , # , |