About
happycreature[at]gmail[dot[com]


Thursday, March 10, 2005
The Good Attitude

College & Dovercourt

Even though Anita didn't score any dates from The Great Blog Dating Experiment, I managed to convince her to put up profiles on Lavalife and Nerve. Yesterday, we tried to take photos for her profiles ...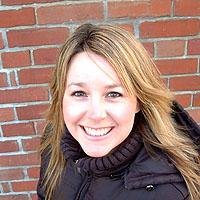 ANITA: IT'S SO DAMN COLD!

BLAMB: ACK! And windy!

ANITA: So you think Lavalife is worth it?

BLAMB: Of course! But not just directly; there are intangible benefits as well. Being on those sites helps you generate "buzz". The more people who know that you're available and fun to date, the more leads you'll get!

ANITA: Like that woman who approached you on the street.

BLAMB: Yeah. I often pick a 1 mile search radius just to see who's single in the neighbourhood on those sites.

ANITA: HA!

BLAMB: When we first tried to get you dates from the blog, I thought the bloggers and readers could help you out. But I think you're here to help them out.

ANITA: How's that?

BLAMB: You're the poster girl for A Good Dating Attitude. A bunch of my readers have very bad attitudes towards dating. You can help them out by modelling good behaviour!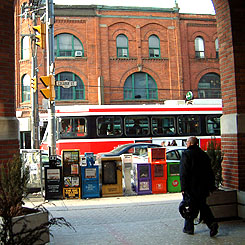 ANITA: For example?

BLAMB: Well, some readers get disheartened when they have bad dates. You laugh and let them roll off ... Crap, I can't feel my freakin' fingers! [removes gloves and rubs hands]

ANITA: Well, those were funny stories! You're just meeting people. It's supposed to be fun. People get too focused on the end result and forget to enjoy themselves.

BLAMB: Some of my readers also think online dating should be a shortcut to a relationship. But I think online dating only complements real-life activity. [stomps feet to try and warm them up] Online dating should be good for you because you already have stuff going on and are looking to expand your opportunties.

ANITA: [teeth chattering] Go out and have fun! People can smell an agenda.

BLAMB: So, if any of my readers are interested in asking you out -- or asking you for advice -- can they still email me at happycreature[at]gmail[dot]com?

ANITA: Only if they have a good attitude towards dating!
8:50 AM , # , |