Sunday, May 27, 2007
Where's Conrad?
Long Walk, 2007 -- 23 km

Spring arrives and again, it's time for the annual long walk. Joining me on the walk was Antonia, and we set for ourselves a newsworthy destination: the estate of Conrad Moffat Black, Baron Black of Crossharbour. He's on trial in Chicago these days and probably not feeling his best, so our mission was to deliver some flowers to his home. And so, the trip began ...



Yonge & Sheppard, looking north up Yonge.

Our starting point was Don Mills & Sheppard, at the end of the new subway line in the parking garage at Fairview Mall (where I played Santa for three Xmas seasons). From there, we walked westward along Sheppard towards North York Centre. Condos are still sprouting all along Sheppard (intensification was one of the requirements for the new subway). We detoured north to pass Mel Lastman Square, then walked south on Yonge and stopped for a coffee.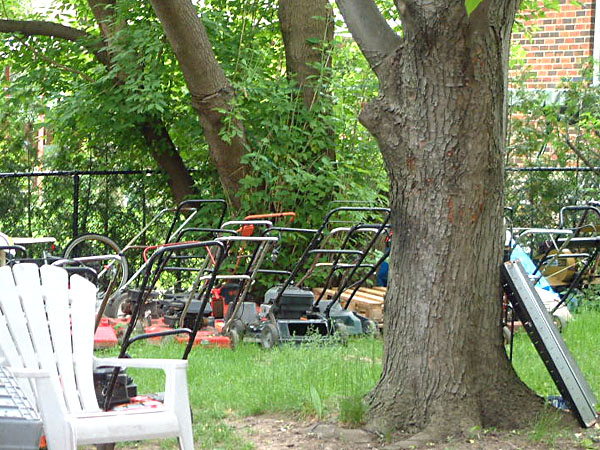 If you live in North York, we found the guy who stole your lawnmower.

After walking south and under the 401, we started to think about the mission: flowers for Conrad.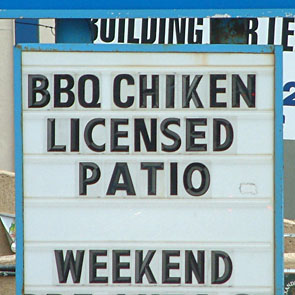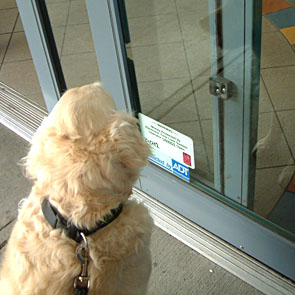 (above, left) North York is the home of a special dish, the BBQ CHIKEN. (above, right) Zack waits, hoping for flowers.

At Yonge and York Mills, we stopped at the gas station to look for flowers. There were no flowers. We considered buying him a cheap cigar or maybe the latest issue of FHM. Zack wanted Doritos.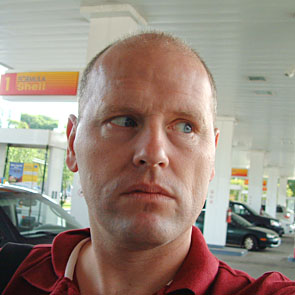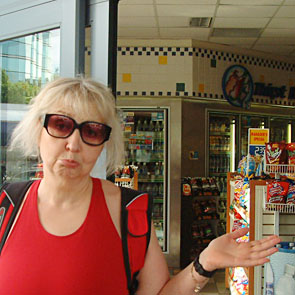 (above, left) I was worried; they never have flowers gas stations. (above, right) Antonia confirmed our worst fears, there were no flowers.

From the gas station, we continued on to Hogg's Hollow. Many of the once-modest homes have been torn down and replaced by houses built by people who seem to treat everything in their lives -- children, dogs, trees, geese, goats -- like hood ornaments.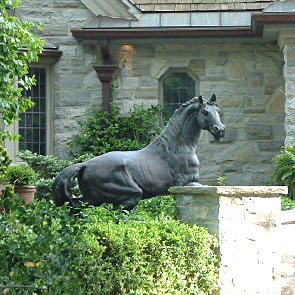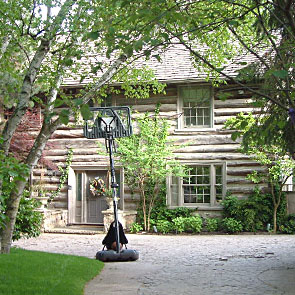 The new construction proved one thing: money can buy a lot of things, but an ounce of taste ain't one of them. We considered pilfering a horse statue (above, left) for Conrad but it just wasn't 'right'. The brand new "log cabin" was the only new house that impressed Antonia.

Our detour led us to a dead end. There was no route through to Bayview and we would have to walk all the way back to Yonge. Without flowers. We were putting in a lot of legwork for Lord Black.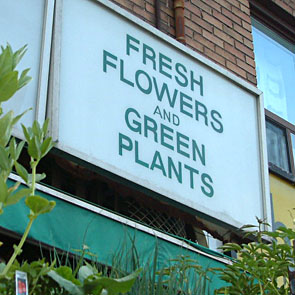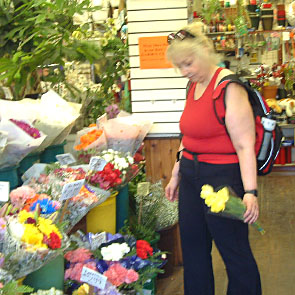 A lucky break!

After making our escape, we found a flower store on Yonge. Keeping things simple, we found the cheapest flowers possible and bought a bouquet of yellow tulips for $3.99. Obviously, we expected Black to be in Chicago and doubted the flowers would even get to him.

We walked east, to Glendon College and then up Bayview. Reaching our destination on foot was more complicated than we expected ...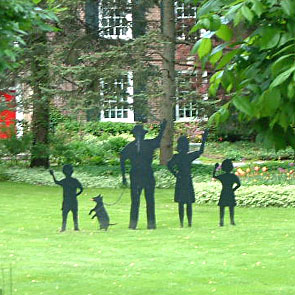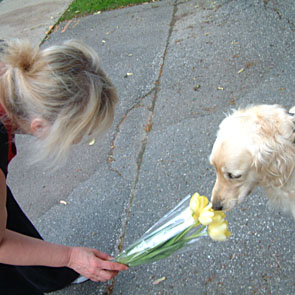 (above, left) The migrant workers who usually pose in this spot don't work on weekends. (above, right) Zack give the flowers his final approval.

A family of cut-outs on the lawn of one of the houses waved to us and we almost felt at home in the enclave of the cash-non-poor. The rich are very friendly (unless you ask them to support government policies that benefit all Canadians, like funding health care). We counted down the addresses until ...



Disappointment: the gate was locked and no view of the house.

We reached the Black estate and it was the only house not visible from the street. And the gate was locked. We took a moment to rest our sore knees and feet.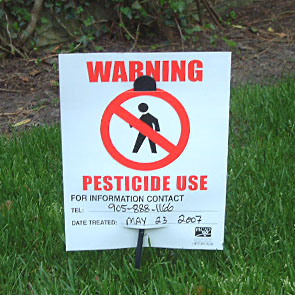 (above, left) Zack likes flowers and wanted to keep them for himself. (above, right) Once again, Black finds himself on the wrong side of the law.

We left the flowers in the gate and started walking south, hoping to find a short cut back to Bayview. It didn't look promising, so we turned back and started to retrace our route ...



Almost a paparazzi.

But when we reached Conrad's gate, it had opened and there was a big, black car about to pull out. We stopped for a moment, expecting either a service vehicle or a security guard coming to get the flowers. Instead, the car pulled out in front of us and Conrad Black and Barbara Amiel were seated in the back seat. The driver waved, drove over our flowers and whizzed off. I dug into my bag and pulled out my camera but only managed to snap a shot as they rounded the corner (the camera is old, slow, failing and can't focus properly).

"Brett, you wouldn't make a very good photo journalist," Antonia said dryly.

I imagine Conrad and Babs were taking a drive over to Prince's house for some drinks with the Purple One and Sheila E.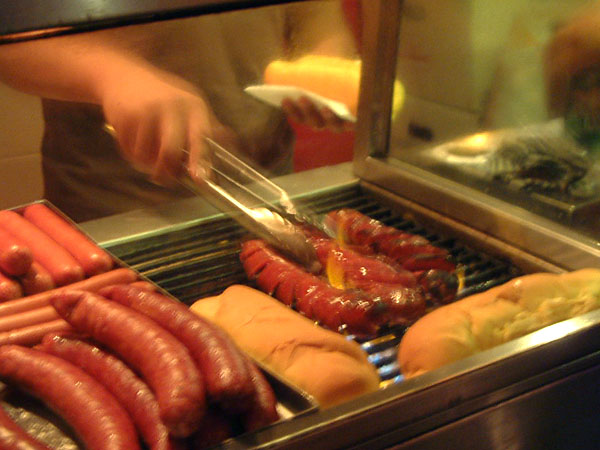 Mmmm, sausages.

Sore and tired, we dragged ourselves back to Bayview and from there, to Yonge & Eglinton where we celebrated a good walk with street sausages. The simple joy of the sausages made me think of poor Conrad Black and how much energy he'd invested in pompous materialism and superficial status. And what did it get him? A court date and the threat of a lengthy prison term.

And it made me think of Marge's lecture at the end of Fargo:

And for what? For a little bit of money. There's more to life than money, you know. Don't you know that?... And here ya are, and it's a beautiful day...

Eating our sausages, warm & safe, we thought of all the fun friends we met on the trip to Conrad Black's.

Previously: 2005 Long Walk
2:21 AM , # , |



Contact
info[at]brettlamb[dot]com

My Cartoon Archives
HAPPY CREATURE
MS. JOHNSON
ED LOCKE
Regular reads
Accordion Guy
Bill Doskoch
Daily Dose
Davezilla
Tony Pierce
Warren Kinsella
News
BlogTO
boingboing
Cursor
DIGG
Dork Shelf
Drawn!
FoodForethought
Fleshbot
Garlicster
Global Nerdy
MetaFilter
Mondoville
The Oil Drum
Reddit
The Register
Slashdot
Space.com
Spacing Wire
Torontoist
Treehugger
ZDNet

Arts & comics
Children of the Atom
Chromewaves
Comic Strip
Corrigan
DeadThingsonSticks
Dinosaur Comics
Hollywood North Report
Maakies
MacKay
Sally McKay
Secret Lair
Toronto Comic Jam
Zoilus
Audio
The Bugle
Coverville
Radio Clash
Ramdom Thoughts

Video
Channel101


Toronto blogs
Circadian Shift
Consolation Champs
Crazy Biker Chick
Day in the Life
Dead Robot
Easternblot
estrojenn
Exhausticated
Free Clara
JB Warehouse & EmporiumLiz Vang
Luminescent
Marmalade
Merv
Naked KnitGirl
Photojunkie
Pony
Pshaw
Raymi the Minx
Robot Johnny
Searching for Tao
Secret Storm
Squiddity
TBIT

Canadian blogs
Simple Spendor
Sooey
Confessions of a Monkey
Dust My Broom
Grrl Meets World
Ian King
James Bow
Simple Spendor
Sooey
View from up here


USA blogs
Cityrag
democraticSPACE
Dooce
Explananda
Fred the Blog
Jett Superior
Maakies
MegaBeth
Panopticist
Yoon Choi

Oz blogs
Brett Lamb: OZ
Little Lioness
Penguin Says Yes

UK
B3TA
Rathergood
Brett Lamb


Create Your Badge
A R C H I V E S
2009
JANUARY
FEBRUARY
MARCH
APRIL
MAY
JUNE
JULY
AUGUST
SEPTEMBER
OCTOBER
NOVEMBER
DECEMBER
2008
JANUARY
FEBRUARY
MARCH
APRIL
MAY
JUNE
JULY
AUGUST
SEPTEMBER
OCTOBER
NOVEMBER
DECEMBER

2007
JANUARY
FEBRUARY
MARCH
APRIL
MAY
JUNE
JULY
AUGUST
SEPTEMBER
OCTOBER
NOVEMBER
DECEMBER

2006
JANUARY - 1
JANUARY - 2
FEBRUARY
MARCH
APRIL
MAY
JUNE
JULY
AUGUST
SEPTEMBER
OCTOBER
NOVEMBER
DECEMBER
APRIL
MAY
JUNE
JULY
AUGUST

2005
JANUARY
FEBRUARY
MARCH
APRIL
MAY
JUNE
JULY
AUGUST
SEPTEMBER
OCTOBER
NOVEMBER
DECEMBER


2004
MAY
JUNE
JULY
AUGUST
SEPTEMBER
OCTOBER
NOVEMBER
DECEMBER
[ 2003 ] [ 2002 ]